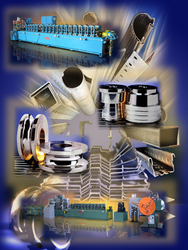 Mentor, OH (PRWEB) August 29, 2009
Roll-Kraft, a worldwide supplier of tooling and equipment for the tube & pipe and roll forming industry, has just participated in the latest audit by the International Organization for Standardization and has successfully been re-certified as "ISO9001:2000 With Design." Roll-Kraft has been certified to the ISO standards since 1997.
Auditors recently spent three days on-site, investigating the strict procedures and requirements set out in the Roll-Kraft ISO Manual, governing the internal procedures for manufacturing roll forming and tube & pipe tooling. The auditors determined the company has again earned their endorsement and continued approval of the program. Roll-Kraft maintained its on-going history of completing the audit with no non-conformances. This is the result of the company's emphasis on compliance, with various teams of internal auditors who perform regularly scheduled audits throughout the year, and by diligently seeing that all records are up-to-date and maintained as processes change and improve.
The dedication to quality has contributed to Roll-Kraft being known worldwide as a solutions provider of custom-designed tube mill and roll form tooling (made of steel or carbide); mill equipment, pre-notch/cut-off presses, hydraulic or pneumatic; cut-off jaws; weld boxes; turkshead rolls; straighteners; single-point adjustments; and more.
Roll-Kraft is recognized as a full-service facility, with outstanding capabilities that include:

Assistance in developing the best design of roll tooling and mill equipment for each specific application
Engineering expertise to aid customers and make recommendations
FEA Copra Software to "virtually" design tooling before manufacturing, to ensure accuracy
Manufacturing welded tube, pipe, and roll form tooling and equipment to produce a variety of sizes and shapes
An in-house tryout facility, which is available to test tooling prior to shipment
24-hour Emergency rework service available at a moment's notice, to minimize downtime
A rework service center is strategically located in the Midwest
New product and facilities planning and on-site technical supervision during installation
Mill alignments by hands-on skilled personnel
Mill rebuilds and restoration
Single-Point Adjustment features (SPA's) for easy, reliable setups
Central Lube Systems
A technical service department to provide assistance on location and cost-cutting recommendations
Training is available on-site, on-line, in regional seminars, and published in technical bulletins, Profit Pointers, available on roll-kraft.com
Roll-Kraft has its headquarters in Mentor, Ohio, and maintains offices in Frankfurt, Illinois (Roll-Kraft Northern) and Woodbridge, Ontario, Canada (Roll-Kraft Ltd.). To reach the Ohio headquarters by phone, dial (888) 953-9400, fax (440) 205-3110, or visit http://www.roll-kraft.com. From the website, you can click on the R-K "Quick Contact" button or submit your request or question to "Dr. Resolve."
###