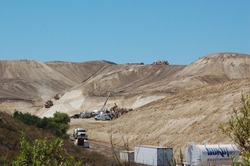 Santa Ana, CA (Vocus) August 28, 2009
Sukut Construction, Inc. has broken ground on a vital Southern California reservoir. The reservoir will create an emergency backup water supply for 168,000 South Orange County families--200 gallons of water per day for one week according to project manager Jordan Sukut. The reservoir site is in the upper Chiquita Canyon near the intersection of Oso Parkway and the 241 Foothill Transportation Corridor in Mission Viejo, California.
Sukut Construction will build the reservoir in contract with the Santa Margarita Water District under supervision of the California Department of Water Resources' Division of Safety of Dams at a cost of $36 million. Sukut Construction will lay more than 10,000 feet of pipe, which will connect the reservoir to South Orange County's main distribution network. The reservoir will be lined and protected by a floating cover.
The excavation of 1.4 million cubic yards of earth from the canyon floor will be required to complete the project. The excavated material will be reused as part of a 167-foot-high earthen dam, which will be studded with electronic instrumentation to provide real-time monitoring of the structure, Sukut said.
The contract also includes construction of an intricate pump station, complete with chemical water treatment capabilities, as well as several concrete structures, including a spillway to capture any overflow. The project is expected to be complete by December 2010.
Sukut Construction is California's largest mass excavation and grading contractor and has moved over a billion cubic yards of earth. It is ranked within the top 100 largest environmental contractors in the nation. Its projects range from highway construction to residential grading to wastewater management systems. Projects include the construction of four, 60-acre wastewater treatment ponds holding more than 1 billion gallons for the Los Angeles Sanitation District and a seismic retrofit of the San Pablo Dam for the East Bay Municipal Water District. It is also charged with site development for a section of the U.S.-Mexico border fence and is widening a 1.3-mile segment of State Route 76 in Fallbrook and straightening its alignment. Sukut, which turned 40 this year, is headquartered in Santa Ana, California, with offices in Oceanside, Los Angeles, and Riverside, California. For more information call 888 785-8801 or http://www.sukut.com.
# # #