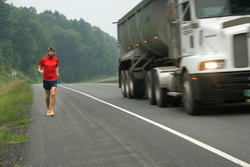 I'm doing this to challenge myself and to raise money to help struggling young people,
Brattleboro, Vt. (Vocus) August 28, 2009
History will be made in lower Manhattan on 9/9/09.
Tellman Knudson will launch his 3,200-mile, barefoot journey across America on Wednesday, September 9, 2009 in New York City's Battery Park with a one-mile fun run along the Esplanade. The event is the first of several stops along his trans-continental trek to raise 100 million dollars for homeless youth.
Knudson chose Battery Park as his starting point with the Statue of Liberty as the backdrop. "I wanted to include this incredible symbol of liberty, support and acceptance. It is what so many young people need, and something I hope I can give them through my efforts," said Knudson.
Knudson will begin his record-setting run at 8:45 a.m. following a press conference at 8:30 a.m. that will feature representatives of the New York City mayor's office, a professor from Columbia University's School of Social Work, and Knudson himself. The purpose of the press conferences is to bring attention to the plight of vulnerable youths and what Knudson's run will do to help address it. All media are invited to attend.
"I'm doing this to challenge myself and to raise money to help struggling young people, " said Knudson. "This cause is dear to me, so to get people's attention I'm running barefoot."
Approximately 200 individuals have run across the continental United States, but no one has ever attempted it barefoot. "Oh yeah, people call me crazy all the time. Plus, look at me. I look like Forrest Gump with no shoes on," said Knudson. "But the only way to accomplish incredible things is to set really ambitious goals."
Knudson is inviting runners and walkers of all shapes and sizes to join him on a one-mile fun run before he starts his 3,200-mile journey. This "prologue" starts at the North Cove Marina in Battery Park city and runs along the beautiful esplanade before looping back to finish at the Marina. Participants are encouraged to arrive at 8:00 a.m. to register and join the press conference before joining the run. "Bring shoes if you'd like," said Tellman. "No one expects you to run barefoot. But if you do, that's awesome!"
About Tellman Knudson:
Tellman Knudson, 31, is a serial entrepreneur who has had great success in internet marketing. He is CEO of OvercomeEverything, ListBuildingClub and several other ventures. Tellman learned to leverage his ADHD, a condition that hinders many, to his creative and financial benefit. He has even been CEO of a busy hypno-therapy practice. Tellman overcame femoral antiversion, a debilitating leg condition, to compete on his high school cross country running team, setting several school records and competing for the New Hampshire state championship. Tellman resides in Vermont with his wife and long-time partner, Jodi Meehan, and toddler son, Torgor.
About RunTellmanRun:
Tellman Knudson seeks to be the first person to run across America barefoot. He begins his 3,200+ mile journey in Battery Park, New York on September 9th and heads west, running the equivalent of one marathon a day. The route follows historic Route 66 for much of the way, with stops in Cleveland, Chicago, St. Louis, Oklahoma City, Tulsa, Phoenix and finishing on the pier in Santa Monica, California.
About Teenage Homelessness:
Over two million youth (between the ages of 12 and 24) will experience at least one episode of homelessness each year and over 100,000 youth sleep on the street for 6 months or more in America. The vast majority of homeless, street-dependent youth will experience amplified risk of exposure to physical assault, rape, sexual exploitation, recruitment into gangs, and deepening mental health illnesses. Tellman Knudson has set a goal of raising $100 million dollars to help create the programs to reduce the risk these youth face on a daily basis, help get them off the streets, and rebuild their lives.
Run with Tellman:
Join Tellman Knudson for a section of his journey across America. Organized running events are planned for major cities along the route. Visit http://www.runtellmanrun.com for a complete listing of events.
Donate:
To make a donation, visit runtellmanrun.com and help re-build the lives of homeless and at-risk youths.
Contact:
Charlie Kimbell, PR Agent
802-296-1276
# # #