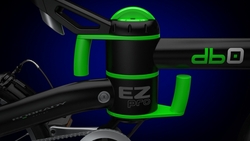 With ROBRADY's fantastic design ability and our production capability as well as our established sales network, success is just around the corner
Sarasota, FL (PRWEB) August 29, 2009
ROBRADY design and DK City have signed an agreement to partner together to design, develop and manufacture an exciting new line of innovative folding electric bicycles. The first in a series of concept bicycles will be debuted by DK City at the 2009 Eurobike show in September to a select group of customers. The show is taking place in Friedrichshafen, Germany and is revered as the world's most important trade fair in the bicycle market. According to plans, the teams are working diligently toward a global, public unveiling of the bike series later in the fourth quarter of 2009.
DK City sought out ROBRADY design after seeing their award-winning work on the eco-friendly electric Vectrix VX-1 Maxi Scooter and Super Bike, as well as their work with designing many products for Segway. Initiating the relationship, Ed Benjamin of Benjamin Consulting coordinated the introduction in Taiwan where negotiations began in February of this year and were brought to fruition last week. Hans Huang, President of DK City, sees great potential in the relationship: "With ROBRADY's fantastic design ability and our production capability as well as our established sales network, success is just around the corner". There is great excitement at ROBRADY design as well. ROBRADY's CEO / Design Director Robert Brady feels that the two companies are "very complimentary" and that the partnership will yield many profitable products: "ROBRADY will continue to strive in positioning DK City as a source for highly desired market-leading transportation products".
DK City Corporation was founded in 1987 and is headquartered in Taichung, Taiwan with an additional facility in Shanghai, China. They employ 1500 people and have an annual sales volume of US $400 million. They are committed to innovating, designing and manufacturing technologically advanced and environmentally friendly products. Known for their sophisticated fitness equipment, massage chairs, and recreational electric scooters and golf carts, DK City has recently expanded into the pollution-free electrical bicycle and motorcycle market. This expansion is driven by their desire to protect and preserve the planet for future generations.
ROBRADY design is a multi-disciplined product design and development studio that offers its multinational client base--including General Electric, Mercedes-Benz, Dell Computers, Parker Hannifin, AT&T, Merial and Volvo Penta--progressive industrial design, mechanical design and engineering, graphics /packaging / GUI / web and eCommerce design, market research, brand and retail development, complete rapid prototyping and production program management. ROBRADY design stresses comprehensive speed-to-market product solutions by collaborating to identify the greatest areas of opportunity and producing innovative designs to deliver profitable product solutions. ROBRADY delivers design, production and capital solutions to their clients in support of their research to reality philosophy.
###