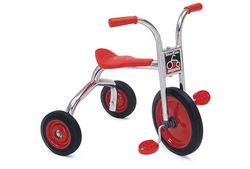 Forget about the cars. What about the kids? Don't they deserve new wheels, too?
Pacific, Missouri (PRWEB) August 28, 2009
We may have lost the Cash for Clunkers program prematurely because of its success among American auto dealers and car buyers, but Angeles® asks, " Forget about the cars. What about the kids? Don't they deserve new wheels, too?" The answer? "Cash for Clunkers: The Tricycle Version."
The Angeles® Cash for Clunkers gives buyers $25 off of the extremely popular SilverRider® trike line, starting August 31, 2009. To take advantage of this back-to-school promotion, early childhood educators and parents can visit DiscountSchoolSupply.com and use the code CASH25. SilverRider® trikes have been staples in early childhood classrooms and in family homes' driveways across the country for decades. Because Angeles® provides parts for trikes as old as 30 years through its on-site expert Mr. Good Pedal, they are confident not many of the "clunker trikes" out there carry the Angeles® name.
Tim Lynch, Director of Sales and Marketing for Angeles®, said, "Cash for Clunkers: The Tricycle Version is a perfect way for Angeles® to follow the success of the national Cash for Clunkers program. Lots of people have old clunky trikes around and don't know what to do with them. Angeles® wanted to step in with this great opportunity during the back-to-school season to help people replace their clunkers with one of the best-selling trikes in America that will last for years to come. No paperwork, no red tape, just $25 toward a new ride. However," Lynch urged, "we are reminding people to dispose of their clunkers responsibly."
Angeles® is hopeful consumers will take a look at their old trikes with the missing hand grips and the bent spokes and think, "Isn't it time to get rid of that clunker?" SilverRider® trikes are perfect for any child; standard SilverRider® trikes come in three sizes, but there are toddler sizes as well. Or riders may prefer the SilverRider® Super Cycle, the Carry-All, Rickshaw, School Bus, the Police Trike or even the Fire Truck. Any child's tricycle dream can come true with a SilverRider® trike - and now for $25 less!
Angeles® is the leading manufacturer in the United States of tricycles for young children, introducing its first model in 1958. Since then, Angeles® has developed a growing number of tricycles, wagons and scooters as well as its popular BaseLine® Furniture and Quiet Dividers®. Angeles® Bye-Bye Buggy® and SpaceLine® Cot lines are industry standards throughout the world.
Discount School Supply (DSS), a national distributor of Angeles® products, is a developer, manufacturer and distributor of top-quality products for the early childhood classroom. A leader in early childhood school supplies, furniture and equipment, DSS features its proprietary Colorations® brand of art materials and accessories in addition to a complete assortment of Angeles® products. DSS, unique in the marketplace because it ships from four warehouses nationwide, also promotes its 110% Lowest Price Guarantee, its customer-top-rated customer service and its consistent same-day shipping. Discount School Supply and Angeles® are part of the Excelligence family of companies.
For more information visit DiscountSchoolSupply.com or call 1-800-627-2829.
###