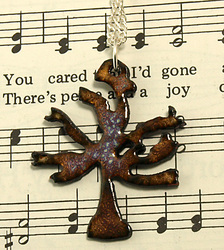 Enamel jewelry is great because there is really no limit to its versatility! You can wear it with shorts and a tank for a casual day at the beach, or it can be used to add a splash of color to that little black dress for a night on the town
Vista, CA (Vocus) August 28, 2009
Enamel Jewelry is becoming an ever popular trend and Zedena Designs is a pioneer in the movement. Melissa Williams Netherton of Zedena Designs creates unique, handmade enamel jewelry at affordable prices that feature this season's hottest colors and trends. From Autumn Trees to Picture Pendants, there is something for everyone.
"Enamel jewelry is great because there is really no limit to its versatility! You can wear it with shorts and a tank for a casual day at the beach, or it can be used to add a splash of color to that little black dress for a night on the town," says Zedena Designs' owner and designer, Melissa Wiliams Netherton.
Selling throughout Southern California in popular shops and boutiques, and also online at http://www.zedenadesigns.com, her designs are sure to grab the attention of everyone from fashionistas to stay at home moms looking to spice up their wardrobe a bit. Each piece of hand-made jewelry combines beauty with a breath of whimsy to create a truly treasurerable work of art.
Zedena Designs is not only moderately priced, but it is also fully customizable. Everything can be made in a different color or size.
Their goal is to offer something completely different from the cookie-cutter jewelry on the market. From a specific piece of art printed on a pendant to a shape or design, Netherton has the experience and resources to make it happen.
Her techniques, materials, and designs have taken a giant leap from the telephone wire jewelry of her youth. The products are of professional quality and make unique use of enamel, copper, sterling and fine silver, genuine Swarovski crystals, and semi-precious stones. Her training in traditional metalsmithing, enameling, lampworking, and fused glass have given her the tools to take her innovative designs from paper and turn them into reality.
Netherton has gone above and beyond the average jewelry maker. Besides the countless classes taken to increase her knowledge of materials and the industry, she has also made the effort to join the PMC Guild and the San Diego Gem and Mineral Society. These societies offer networking opportunities and courses that keep designers and sellers up to date on the latest fashion and market trends.
Contact:
ChicExecs PR
760.992.9113
http://www.chicexecs.com
ChicExecs PR is an "out of the box" PR company which represents over 70 clients. ChicExecs has created an innovative approach to PR dedicated to helping small-medium business receive media coverage. Our revolutionary automated system is changing the face of PR. For more information visit http://www.chicexecs.com.
# # #