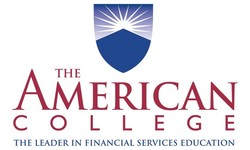 They learn and grow together. This reunion offers an excellent way for Master's graduates to reconnect, stay current and continue learning.
Bryn Mawr, PA (PRWEB) August 31, 2009
Alumni of The American College's advanced Master's degree programs will reconnect with fellow graduates and gain new insight at a reunion held during the institution's Knowledge Summit in Boston this fall. This gathering of elite professionals combined with a cutting edge symposium is for Master of Science in Financial Services (MSFS) and Master of Science in Management (MSM) with an Emphasis in Leadership graduates exclusively.
The curriculum of The College's Master's programs, which includes a week-long residency at The American College campus in Bryn Mawr, PA, allows program participants to form relationships with their fellow peers while strengthening their technical and practical knowledge in key management skills and financial planning.
"The Master's programs at The American College are unique. Students moving through the program together find themselves on a team, rather than just in a class," said Rocco Fiorentino, MSM, Reunion Master of Ceremonies and President, Eagle Tax Services. "They learn and grow together. This reunion offers an excellent way for Master's graduates to reconnect, stay current and continue learning."
The reunion will take place from 12:30-6:00 PM on Tuesday, October 27 at the Boston Park Plaza. It will feature presentations by top financial services industry thought leaders including Laurence Barton, Ph.D., President and Chief Executive Officer of The American College; Randy Zipse, JD, Vice President of Advanced Markets - John Hancock Life Insurance; Mary Quist-Newins, ChFC®, CLU®, CFP®, State Farm Chair in Women and Financial Services at The American College and Keith Hickerson, MSM, Strategy Consultant.
Topics discussed at the Master's Reunion include new communications trends, change management, women in the economy and using social media to accelerate business productivity. At the conclusion of the presentations, the Master's graduates will join other Summit participants for a reception discussing marketing to the affluent through philanthropy.
Master's graduates who register for the Knowledge Summit for a fee of $599.00 ($399.00 for President's Circle members) are able to attend the MSM/MSFS Reunion at no charge. The cost for Master's graduates registering only for the MSM/MSFS Reunion is $195.00. Registration and other information can be found at TheAmericanCollege.edu/Summit2009
Each year, The American College Knowledge Summit gathers the top thought leaders of the financial services industry for four days full of networking and education. Attendees have the opportunity to hear from industry powerhouses and earn CE credit. This year's Summit will be held from October 27-30 in the historic city of Boston and features world renowned thought leaders including Peter Lynch of Fidelity Investments, Kathleen Kennedy Townsend, former Lt. Governor of Maryland and Wall Street Journal columnist and presidential speechwriter, Peggy Noonan.
The American College is the nation's largest non-profit educational institution devoted to financial services. Holding the highest level of academic accreditation, The College has served as a valued business partner to banks, brokerage firms, insurance companies and others for over 82 years. The American College's faculty represents some of the financial services industry's foremost thought leaders. For more information, visit TheAmericanCollege.edu
# # #