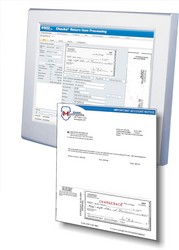 The time to image-enable the Incoming Returns process has come
Oklahoma City (PRWEB) August 31, 2009
Myriad Systems Inc (MSI), a leading national provider of print & mail, e-Statement, and web-based item processing solutions and services to U.S. financial institutions, has released a standalone, completely web-based Incoming Check Returns processing solution that is designed to complement the Federal Reserve's FedReceipt® Plus for Returns delivery initiative.
The FedReceipt Plus service provides the bank of first deposit (BOFD) with an electronic file of all return items that have been deposited with the Federal Reserve Banks in an image return letter, including images of all paper return items received that are imageable. No paper versions of these items follow.
MSI's Checkse Return Item Processing solution is an online, web-based inbound return check image handling tool that allows any financial institution to upload a returns file received from the Federal Reserve or any other source, make chargeback vs. re-present decisions online from images, and then take appropriate reconciliation actions. Such decisions are accumulated into forward cash-letter files for items that are selected for re-presentment, and into chargeback image cash letters and notices that can be printed or electronically served back to customers.
The MSI solution is a feature-rich Software-as-a-Service (SaaS) offering hosted in MSI's secure data centers that can be implemented quickly and does not require the purchase of any hardware or software licenses. Credentialed operators with an Internet browser can access the application through MSI's AccessDirect® solution portal that also provides access to MSI's other item processing applications including Remote Deposit Capture, Branch Capture, image Proof of Deposit, Exceptions (Outgoing Returns), Image Archive, and Exchange.
For items that need to be represented for collection, the Incoming Returns solution automatically produces x9.37 cash letters for redeposit, and tracks the number of presentments for each item, ensuring that items ineligible for re-presentment are not included in represented cash letters.
Chargeback cash letters output by the system are designed to update an institution's legacy item processing system with a miscellaneous debit chargeback ticket containing a superimposed image of the offending item. This allows institutions to properly credit and debit general ledger and customer accounts within existing systems, while providing bank customers immediate access to images of the items in question. Institutions can even set their own chargeback fees by depositor, providing for maximum flexibility.
"The time to image-enable the Incoming Returns process has come," said Dan Haffner, MSI' Director of Item Processing Solutions. "The Federal Reserve's recent announcement that they will consolidate all paper returns processing in one processing center by first quarter 2010 means that institutions unable to accept returns as images may experience increased collection delays and fraud risk for paper returns. Together with the Federal Reserve's imaging initiative, MSI's Returns solution mitigates that risk, requires almost no integration, and is available with minimal startup costs".
About Myriad Systems Inc:
Myriad Systems Inc (MSI) is a leading provider of print and mail, online document delivery, and item processing solutions for financial institutions across the United States. MSI processes, prints, and mails financial statements and notices; electronically archives statements, notices, and other types of documents for online delivery and research; and facilitates the capture, processing, and clearing of check images between customers and their banks, as well as between banks and check exchanges. Learn more about MSI at http://www.myriadsystems.com.
###