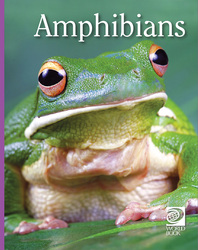 Young students are fascinated by animals. Offering students well-written, well-designed educational resources to harness this interest improves their opportunities to learn
Chicago, IL (PRWEB) August 31, 2009
What child wouldn't want to learn about a frog more poisonous than the deadliest snake or an eight-foot tall duck? Fascinating facts about these animals and many more are found in World Book's new Animal Lives print series.
The seven-title series is designed specifically to correlate with elementary school curriculum topics. Each volume offers comprehensive information about animals in a particular group, including their physical features, life cycles, adaptations, behaviors, and habitats, as well as threats to their survival and current conservation efforts. The volumes are filled with entertaining facts and unique details to help draw the reader in.
The entire series is highly illustrated and designed to support differentiated learning with content, layout, images, and reading levels developed to be more accessible to readers and to help students retrieve and understand information more effectively. Activities presented in each volume encourage further exploration and learning.
Titles in the Animal Lives set are:

Amphibians
Birds
Fish
Insects and Spiders
Mammals
Mollusks and Similar Sea Creatures
Reptiles
"Young students are fascinated by animals. Offering students well-written, well-designed educational resources to harness this interest improves their opportunities to learn," said Paul Kobasa, editor in chief for World Book. "With the Animal Lives series, students can better understand animals in the broader context of the groups to which they belong and how those groups affect and are effected by both internal and external forces."
Ordering and Availability
Animal Lives (ISBN 978-0-7166-0401-3) is available now from World Book's school and library sales force at 800-975-3250 (U.S.) or 800-837-5365 (Canada), or online at http://www.worldbookonline.com/sales.
About World Book
World Book, Inc. sets the standard in publishing accurate, current, and reliable reference and learning materials for children and adults. Based in Chicago, World Book is committed to creating educational products that meet the highest standards of editorial excellence in print and online. This commitment has resulted in a wide range of products including the number-one selling The World Book Encyclopedia and the World Book Web, which is the most comprehensive and authoritative online solution to meet the diverse information needs of students, educators, public library patrons, and families. World Book (http://www.worldbook.com) is a Scott Fetzer company, a subsidiary of Berkshire Hathaway, Inc.
# # #