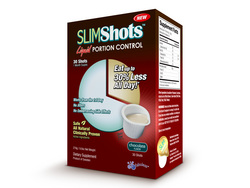 Exercise, while important for improving overall health and well-being, did not promote weight loss
Wayne, NJ (PRWEB) August 29, 2009
When it comes to weight loss, Harvard(1), the European Congress on Obesity(2), and Louisiana State University's Dr. Timothy Church(3), all agree: eating less is the key to success. According to these recent studies, neither exercise nor diet composition affected weight loss like consistently reducing the calories consumed. Prompted by the findings, the U.S. dietary supplement SlimShots announced that it is the only weight management aid helping people eat up to 30% less food, without feeling hungry, through its patented, all natural active ingredient Fabuless. Could the days of difficult-to-stick-with diets be numbered?
In one of the largest, long-term clinical trials on weight loss to date, the Harvard study monitored 811 participants consuming 4 different diets while all groups maintained the same exercise program. The outcome of the 24-month study was simple: to affect successful weight loss overweight adults need to reduce their food intake as much as 750 calories a day. The study also showed that weight loss did not improve significantly by the type of diet; neither the group eating a diet low in fat, low in carbohydrates, or a high or low protein diet had an edge. Participants lost weight simply by reducing the amount of food they ate.
Following the February release of the Harvard study, two new and unrelated studies further rocked the weight loss world. "Exercise, while important for improving overall health and well-being, did not promote weight loss," said Ron Boger, executive vice president of SlimShots. "In fact, the European study showed American adults actually exercising more while the LSU study indicates exercise may be causing weight gain in some people as they reward their efforts with high calorie treats." It is further evidence that the key to weight loss is eating less.
For a nation accustomed to super-sized portions, eating less can be a big challenge. Boger believes products like SlimShots can help people adjust their eating habits gradually and healthily. "SlimShots is a tool. It helps you feel full and reduces hunger between meals naturally. That means you can reduce the amount of food you normally eat - up to 30% less all day - to help you stay on target with your diet."
Active Ingredient 10 Years in Development
Behind SlimShots' breakthrough active ingredient is the Sweden-based LTP Lipid Technologies Provider AB and its $12 billion lifestyle ingredient parent company, DSM Nutritional Products.
Boger explained, "Company researchers found that fats delivered directly to the ileum, or lower part of the intestine, trigger a feeling of satisfaction or fullness. Once a person feels comfortably satisfied, a mechanism called the "ileal break" is activated and the feeling of being full from the end of one meal to the next occurs.
The success of the emulsion's decade long development is evidenced in clinical trials; with 4 trials and papers published in the International Journal of Obesity and 2 in the European Journal of Clinical Nutrition. Additionally, Boger noted a Mechanism of Action (MOA) study on the emulsion is in peer review and due to be published in a major European journal next month.
As Wholesome as the Food on Your Table
The patented emulsion, comprised of oat oil, palm oil and water, is sweetened with sucralose and artificially flavored with vanilla or chocolate. Boger says of the "SlimShots is as wholesome as the food on your table." Containing no stimulants and no fat blockers, he is quick to point out that the diet aid will not cause jitters or any embarrassing side effects. For today's health conscious adult, Boger is proud of the fact that product safety is as important to SlimShots as its efficacy.
For the 6 in 10 American adults who are overweight and sorting out the latest facts, one thing is clear, the key to weight loss is eating less and reducing calories.
For more information, visit http://www.slimshots.com
(1) Sacks F., Bray G., et al, Comparison of Weight Loss Diets with Different Compositions of Fat, Protein, and Carbohydrates, New England Medical Journal, February, 2009
(2) Swinburn B. Increased energy intake alone virtually explains all the increase in body weight in the United States from the 1970s to the 2000s." 2009 European Congress on Obesity; May 6-9, 2009; Amsterdam, the Netherlands. Abstract T1:RS3.3.
(3) Corby K. Martin; Timothy S. Church; Angela M. Thompson; Conrad P. Earnest; Steven N. Blair. Exercise Dose and Quality of Life: A Randomized Controlled Trial. Arch Intern Med., 2009; 169 (3): 269-278 Adapted from materials provided by JAMA and Archives Journals.
###