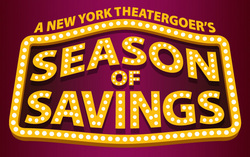 New York, NY (PRWEB) August 31, 2009
Season of Savings, Broadway's twice-annual special edition of Playbill, featuring significant discounts and deals for numerous Broadway and Off-Broadway shows, parking garages, hotels and other New York City attractions is now available at http://www.seasonofsavings.com after appearing yesterday in several major metropolitan newspapers. The timing of the discount availability for each show ranges from August 30 to December 20. Consumers can take advantage of discounts such as 50% off tickets for Chicago, $55 ticket coupons to HAIR and $40 to Mary Poppins, or up to 30% savings on Rock of Ages, the 2009 Tony Awards five-time nominee.
Since its introduction in January 2002, Season of Savings has generated more than $38 million in ticket sales for Broadway and Off-Broadway, accounting for more than 600,000 tickets sold. The unofficial 'New York Theatergoer's Guide to Times Square,' providing guidance to this Fall season's biggest deals, was made available yesterday via home delivery to readers of The New York Times, Newsday, The Journal News, The Star-Ledger, The Record, and The Asbury Park Press reaching more than 1.5 million households.
This year's deals are for the following shows. For more information, and to register for an email list to receive additional great deals, go to http://www.seasonofsavings.com.

The 39 Steps - an epic spy-tale and outrageous comedy about an innocent bystander who is accused of a crime and needs to solve it himself.
Burn the Floor - a sexy reimagining of ballroom as a dramatic and passionate mode of storytelling, showcasing every style of dance from the Foxtrot and Charleston to the Rumba and Salsa.
Bye Bye Birdie - the classic rock 'n' roll smash hit, presented by the Roundabout Theatre Company.
Chicago - the 1996 Tony Award for Best Musical Revival that's a whirlwind tale of intrigue, murder, passion, greed and corruption.
Fela! - a look at the controversial life of Fela Anikulapo Kuti, as an artist and revolutionary while he pioneers his trademark blend of funk, jazz and African rhythms.
Finian's Rainbow - tells the story of Irishman Finian McLonergan and his daughter Sharon as they travel to a small town in the mythical state of Missitucky with plans to bury a stolen pot of gold they took from a leprechaun named Og, who shows up determined to recover his treasure.
HAIR - the 2009 Tony Award for Best Musical Revival that follows a free-spirited brigade of protesting hippies as they come to grips with the political strife surrounding them during the Vietnam War.
In the Heights - the winner of four 2009 Tony Awards including Best Musical, Best Score, Best Choreography and Best Orchestrations that follows three days in the lives of residents in Washington Heights, NY as they come to grips with the daily struggles of how to grow up in a changing world.
Mamma Mia! - the popular musical featuring the music of ABBA that follows Sophie, as she tries desperately to discover the identity of her father by inviting three men to her wedding with whom her mother had trysts 20 years ago.
Mary Poppins - now beginning its fourth acclaimed year at the New Amsterdam Theatre, this story has dazzled and delighted almost 2 million people with timeless songs, an irresistible story and spectacular stagecraft.
Next to Normal - the winner of three 2009 Tony Awards including Best Actress in a Musical and Best Score that tells the story of a mother as she struggles to hold herself, and her family together when diagnosed with a psychological disorder.
Phantom of the Opera - the longest running show in Broadway History that shows the chilling and seductive tale of the Paris Opera House's resident phantom, a disfigured, musical genius obsessed with a young Soprano. Winner of seven 1988 Tony Awards including Best musical.
Rock of Ages - featuring the hit music of Foreigner, Journey, Pat Benetar and Poison, this is a love story set in the hard rock, night club world of 1987. It was nominated for five 2009 Tony Awards including Best Musical and Best Actor in a Musical.
Shrek the Musical - nominated for eight 2009 Tony Awards including Best Musical and Best Score, this is a clever reimagining of the classic Dreamworks tale with a fantastically fun musical element.
South Pacific - set among tropical islands during World War II, this musical tells the story of Nellie, a U.S. Navy nurse as she falls in love with a French plantation owner despite her many hesitations. Winner of seven 2008 Tony Awards including Best Revival of a Musical.
Superior Donuts - opening this Fall, this musical showcases the classic struggle between the generations as ex-hippie donut shop owner, Arthur Przybyszewski, forms an unlikely friendship with his only employee, a brash young African-American who wants to change the decrepit shop for the better.
Wishful Drinking - Carrie Fisher's bitingly comic look at the dark side of her post-Star Wars life.
# # #