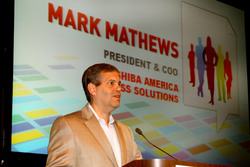 There's no denying that this past year has been tough on our industry, but Toshiba has chosen to deal with those challenges head-on
Irvine, California (PRWEB) August 31, 2009
Nearly 500 professionals attended one of two Regional Summits hosted by Toshiba America Business Solutions Inc. (TABS) last month - the first held in Las Vegas, July 14-16, and the second in New Jersey, July 27-29. Dealer attendees at each event enjoyed an inspirational keynote address delivered by Geek Squad founder Robert Stephens, and information-rich presentations and breakout sessions led by TABS executives. Meeting content all tied back to the events' theme, demonstrating to dealers that Toshiba is "Committed to Your Success."
"There's no denying that this past year has been tough on our industry, but Toshiba has chosen to deal with those challenges head-on," said Mark Mathews, president and chief operations officer, TABS. "We've worked very hard to develop new programs and partnerships that will benefit our dealers and their customers, and help them to compete effectively in this market. We were very proud to host two events that provided a platform to share these announcements with our dealer partners directly, and truly demonstrate our commitment to them and the success of their business."
Highlights of the announcements made at each event include:

Hewlett-Packard (HP) Strategic Agreement - Summit attendees were the first to hear the news that Toshiba and its Toshiba Business Solutions (TBS) subsidiaries will offer customers HP's line of printers and A4 multifunction products (MFPs) as part of Toshiba's overall product portfolio. The agreement provides a tremendously unique and robust product and service offering, with residual customer benefits including increased Managed Print Services (MPS) efficiencies and operational cost savings.
Encompass Green Report - Announced at the Summits and now available to dealers and their customers, Toshiba's proprietary Encompass Green Report builds on the innovative Encompass system to provide an accurate measurement of a customer's energy consumption, carbon emissions, paper usage and solid waste. Unlike simplified online widgets that provide only a rough estimate of a company's eco-footprint, Toshiba's Encompass customers receive a customized analysis specific to their business that quantifies the number of trees consumed, waste water produced, energy costs and overall waste generated. Most beneficial, it will specifically pinpoint opportunities for reducing environmental impacts while also reducing costs, as the two are often associated.
MPS Toner Recycling Program - Also announced at the Summits and now available to dealers and customers, the MPS Recycling Program provides a simple and convenient way for businesses to recycle their used consumables and reduce their eco-footprint. The collected cartridges can be remanufactured or recycled. Close the Loop (CtL), which was launched late last year, is another recycling opportunity for dealers and customers. Cartridges collected by CtL are sent to a zero-waste-to-landfill recycling plant where they can be repurposed into e-Lumber used to build park benches and other practical, eco-friendly items.
Product-Based Eco-Innovations - A host of notable Toshiba MFP environmentally-
friendly features were highlighted for Summit attendees, including: Super Sleep Mode of one watt - the lowest in the industry; U.S. Environmental Protection Agency (EPA) Energy Star Tier 2 certification; 100 percent lead-free and halogen-free circuit boards; Reduction of Harmful Substances (RoHS) compliance; and long-life consumables, just to name a few.

Security Vulnerability Assessment Report - It is reported that U.S. companies lose $600 billion due to fraud each year, and MFPs and printers are a critical point of vulnerability due to the retention of sensitive data. Similar to the Encompass Green Report, this new report facilitates the first essential step of helping customers identify existing security risks across four key areas - data stored on the device, access to the device, the security of company documents and equipment end-of-life security. The resulting report identifies document-related security risks, provides a security rating for each networked printer or MFP and outlines a strategy to cost-effectively fortify the customer's document output and management.
Toshiba eXCHANGE - Launched in beta version at the Las Vegas event, Toshiba eXCHANGE is a social business network that connects thousands of Toshiba sales, service, administrative and corporate professionals nationwide, allowing them to easily share information, build professional relationships, and improve their ability to serve the needs of customers. Similar to existing social networks, such as Facebook, LinkedIn or MySpace, Toshiba eXCHANGE will unite the Toshiba community by providing members with a convenient, easy-to-use online forum to share and seek information - such as best sales practices and techniques, end-user generated knowledge, and product tips.
Free Prints Promotion - Finally, one of the most exciting announcements made during the General Session of the New Jersey event was Toshiba's most extensive end-user promotion, offering up to 12 months of free B&W prints with an eligible Toshiba MFP leased through Toshiba Financial Services.
New Monochrome and Color Products - Also on display and discussed at the events were two of Toshiba's latest monochrome line-ups and award-winning color series. The new Toshiba monochrome e-STUDIO™455 and e-STUDIO855 series each come with a host of compelling features for businesses of all sizes, including: print and scan standard; a full-color touch-screen LCD control panel; scan-to, and print-from-USB accessibility from the front of the machine; and impressive monthly copy volumes. The e-STUDIO6530c series is Toshiba's fastest, most advanced color multifunction product family in the company's history. In the short time it has been available, it has won the industry's highest accolades.
"There was an incredible amount of information and news packed into one day's program agenda at each of these events, all of which had been strategically planned to help Toshiba dealers go back to their market and be more successful," said Bill Melo, vice president, Marketing and Enterprise Services and Solutions, TABS. "There's no doubt that this event and the ongoing support being provided to our valued dealers demonstrate that Toshiba is fully committed to our industry, our company, and our dealers."
About Toshiba America Business Solutions Inc.
Toshiba America Business Solutions Inc. (TABS) manages product planning, marketing, sales, service support and distribution of copiers, facsimiles, multifunction printing products, network controllers, and toner products throughout the United States, Mexico, Brazil, Latin America, and the Caribbean. Headquartered in Irvine, Calif., TABS has five divisions: the Electronic Imaging Division; the Toner Products Division; the Document Solutions Engineering Division; the International Division; and TOPAC U.S.A., Inc., dba Toshiba Business Solutions (TBS), a wholly-owned subsidiary corporation of TABS, that operates a network of wholly-owned office equipment dealers throughout the United States.
Named the most favored manufacturer ten times by the Business Technology Association (BTA), Toshiba's entire product line, customer support and marketing distribution policies are markers for the industry. Among the many other awards garnered in recent years, Toshiba was named the "Manufacturer of the Year" eight times by Marketing Research Consultants (MRC), and has twice been named to the CIO 100 for being among the top 100 "bold" (2008) and "agile" (2004) companies in the world.
TABS is an independent operating company of Toshiba Corporation, the seventh largest electronics/electrical equipment company and the world's 91st largest company in terms of sales. Ranked by Fortune magazine as the eighth Most Admired Electronics Company in the World, Toshiba Corporation is a world leader in high technology products with more than 300 major subsidiaries and affiliates worldwide. Fiscal year revenue in 2007 was approximately $76.6 billion.
For more information on Toshiba copiers, facsimiles, multifunction printing products, network controllers or toner products, or for a dealer in your area, call (800)-GO-TOSHIBA or visit the TABS Web site at copiers.toshiba.com.
# # #