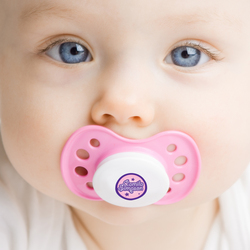 Wall, NJ (PRWEB) August 31, 2009
Hundreds of thousands of children's items--clothing, binkies, sippy cups, towels, backpacks, etc--end up forever lost at daycare, schools, public pools, and all other places children congregate. Allenwood, New Jersey-based ID Me Labels has recently launched a most unique line of labels for infants, toddlers, and older children.
"Labels are becoming especially important in an age where more children attend pre-school, daycare, camps, and swim schools," according to Cliff Stieglitz, ID Me's co-founder.
Binky Buttons, Bib Buttons, and Photo ID Me Labels were originated by ID Me and are currently available nowhere else. Another distinguishing feature is ID Me's 24- to 48-hour turnaround time on orders--one of the fastest in the industry. ID Me Labels are specially laminated so they're UVA-resistant, microwave- and dishwasher-safe, water-proof, and highly durable. ID Me Labels are perfect on baby bottles, backpacks, bibs, binkies, bowls, cameras, CDs, DVDs, clothing, craft supplies, cell phones, luggage, eyeglasses, lunch boxes, school supplies, sporting goods, toys, toothbrushes, pencil boxes, water bottles, and the list goes endlessly.
Other ID Me products include Allergy labels, Sole Mates shoe labels, bag tags, All-Purpose labels, Stick-On clothing labels, and more, with a wide array of icons to choose from for further personalization. All of the labels are printed in vibrant, high-resolution color, and Photo ID Me labels feature your child's photo. Combination packs are also available.
ID Me is a subsidiary of Airbrush Action, Inc., publisher of the world's leading airbrush magazine since 1985, producer of instructional DVDs, art workshops, and its renowned graphic design division. For more information, visit http://www.idmelabels.com.
For more information, contact:
Cliff Stieglitz
ID Me Labels
P.O. Box 438
3209 Atlantic Avenue
Allenwood, NJ 08720
ceo (at) airbrushaction (dot) com
http://www.airbrushaction.com
Cell: 732-233-7007
Office: 732-223-7878
###