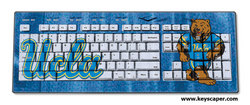 In a time where self-expression is prized, we wanted to help people bring something personal to their desktop
Tulalatin, OR (PRWEB) August 31, 2009
Good news for those of us that spend hours a day at our computers: desktops just got a little more interesting. Keyscaper, a digital printing company specializing in computer accessories, introduces their new computer accessory product at their online store. Computer users can now buy keyboards and mice printed with designs that reflect their passions, or gifts for that person that already has it all.
With an arsenal of licensed properties, collegiate sports designs, stock images, and featured artists, there is a Keyscaper for everyone. And starting at $29 for mice and $49 for keyboards, users can afford to change their desktop with their mood.
With people spending so much time in front of their computers, Keyscapers represent an interesting way to get beyond the boredom of typical black, white, and gray desktop accessories. College sports enthusiasts can celebrate the start of football season with Pac-10 designs. Garfield fans can keep their favorite cat in view at all times. Stock art of beautiful landscapes allow computer users to transport themselves to their favorite locale.
Keyscaper uses proprietary technology to print directly onto these desktop accessories. There are no stickers or wraps involved. The result is something that is high-quality, durable, and unlike anything else in the marketplace. "In a time where self-expression is prized, we wanted to help people bring something personal to their desktop," says Keyscaper creator, Guy Newcomer. "The best thing about Keyscapers is that they become conversation starters. It's fun to share your passions with co-workers, family members, and classmates. Having your favorite school, flag, or cartoon on your desk gets people asking questions about what you love."
For additional information about Keyscaper and their products, contact Randall Thom or visit http://www.keyscaper.com/.
About Keyscaper™:
Keyscaper is an outgrowth of Strategic Printing and Manufacturing Solutions, a printing company founded in 2003 by Toni Thom. Strategic had a passion for decorating strange things that no one else could print, and they developed technology that could make that happen on a large scale. Keyscaper's product line is the result of that technology.
Contact:
Randall Thom, President
Keyscaper™
Strategic Printing and Manufacturing Solutions, Inc.
9673 SW Tualatin-Sherwood Road
Tualatin, OR 97062
randy (at) strategic-printing (dot) com
http://www.keyscaper.com
###