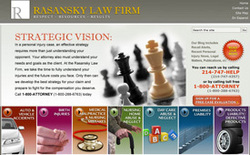 That's why our site helps guide visitors through what can be a delicate process and details when it's appropriate to contact a lawyer in a personal injury case
Dallas, TX (PRWEB) September 14, 2009
The Rasansky Law Firm, a Texas-based plaintiffs' law firm, today announced the launch of a redesign of its TexasInjuryAttorney.com website, a comprehensive online resource for information relating to personal injury law. Jeff Rasansky, 20-year veteran in the personal injury field and firm founder, states that he built TexasInjuryAttorney.com as a resource for people all over Texas, not just those in large metropolitan areas such as Houston, Dallas, San Antonio and Austin, but those in smaller towns as well. He believes that negligence, neglect and injuries impact people from all walks of life and that everyone deserves the leverage a lawyer brings to the table. "That's why our site helps guide visitors through what can be a delicate process and details when it's appropriate to contact a lawyer in a personal injury case," he states. Rasansky genuinely reflects the firm motto of "Respect, resources and results" as he works every day to bring those three elements to his valued clients.
The site provides legal information on a wide variety of personal injury topics, highlighting the areas of vehicle accidents, cerebral palsy and other birth injuries, medical malpractice, nursing home and daycare abuse, premises liability and defective products. The site also offers videos and a personal injury blog that provide extensive information on personal injury law matters throughout Texas and the rest of the United States. The blog features recall alerts, personal injury news, and articles on legal matters as they develop. For Spanish-speaking visitors, the site also offers information in Spanish, and the firm has Spanish-speaking staff.
To see the revised website, visit TexasInjuryAttorney.com.
About The Rasansky Law Firm:
The Rasansky Law Firm is based in Dallas, Texas and represents clients throughout Texas and, in some cases, nationwide. The firm has a reputation for aggressively representing individuals in personal injury matters.
Media Contact
Lucinda Belden
Director of Marketing
The Rasansky Law Firm
Phone: 1-214-747-4357 or 1-800-ATTORNEY
###