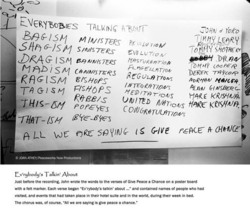 These images were hidden away for over 35 years. It's like sitting on the edge of the bed and watching history unfold
Delray Beach, FL (PRWEB) September 24, 2009
What gift can you bring to a party that commemorates what would have been John Lennon's 69th birthday? Victoria Rehberg of ArtVision Exhibitions has the answer for the art-loving community of Delray Beach, Florida. From October 5 - 11, 2009 the historic Old School Square Cultural Arts Center hosts Give Peace A Chance, an acclaimed traveling photo exhibition commemorating the 40th anniversary of John Lennon and Yoko Ono's 1969 Bed-in for Peace. This week-long blockbuster celebration is packed with special events and the heart of the week includes a birthday bash on Oct 9 to honor Lennon's legacy of peace.
Old School Square Cultural Arts Center and ArtVision Exhibitions invite visitors of all ages to join in the week-long celebration. It is a rare opportunity to experience the exhibit, which recently made a major impact in both Liverpool, UK and at The Museum at Bethel Woods, (Woodstock site) NY. "These images were hidden away for over 35 years. It's like sitting on the edge of the bed and watching history unfold," said Ms. Rehberg. "We've also had a huge response to our plan to include student art inspired by the idea of peace."
The 30 large format photographs and story panels which will be on display in Old School Square's Vintage Gymnasium were taken by Brooklyn-born Gerry Deiter on assignment for Life magazine. The era comes to life with Bed-in contributor interviews including producer André Perry, live musical performances with bands "910" and "The School of Rock", historic instruments courtesy of Beatle memorabilia collectors Bill and Jacki Haack, and whimsical illustrations by former Disney animator Stephen Austin.
Visitors will have the opportunity to place their written message for world peace on the exhibit's wish tree which will be sent to Yoko Ono, enter the recreated bed-in suite from the Queen Elizabeth Hotel, purchase rare art, and attend readings and book signing events with curator Joan E. Athey of Victoria British Columbia.
Said Michael Simmons, reporter for Mojo Magazine, LA Weekly and Huffington Post: "Gerry Deiter's photographs capture that brief moment in human history when two people, unafraid to appear foolish, cleverly and joyfully utilized their fame for peace. It's an eternal example, one that urgently reverberates in the 21st Century. Not incidentally, they also remind us of one of the great love stories of all time."
See special events at artvisionexhibitions.com or oldschool.org, Melissa Carter at mcarter (at) oldschool (dot) org (561) 243-7922 ext. 322.
Give Peace a Chance is circulated worldwide by ArtVIsion Exhbitions, LLC and is on reserve to Coventry Cathedral Spring of 2010.
###