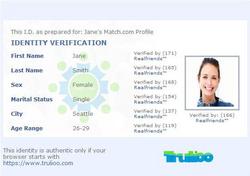 When your neighbourhood doctor, lawyer or teacher signs your passport application - that is community identity verification at work.
Vancouver, Canada (PRWEB) September 1, 2009 -
Trulioo Inc., today announced the release of the web's first Community Identity Verification System. Perfect for online dating sites, auction sites, job search sites and age restricted forums and groups. The product is free and can be used anywhere on the web where an increased level of trust between people is required. Facebook users can sign up now for Trulioo at Trulioo.com, and the Company plans to release versions for other social networking websites in the coming months.
Trulioo's patent pending technology allows its users to verify their identity details by leveraging their real-world relationships with thier friends, family, coworkers and community through online social networking websites.
"Governments around the world have always relied on community based identity verification to issue passports and other important documents to their citizens," says Tanis Jorge, Director of Business Development for Trulioo. "When your neighbourhood doctor, lawyer or teacher signs your passport application - that is community identity verification at work." explains Jorge. "With the advent of real world social networks being brought online in recent years, the opportunity for alternative online identity verification now exists."
According to Facebook, their average profile has one hundred and twenty (120) friends listed. The concept behind Trulioo is that the majority of those friends have at least some real world knowledge of the user, and that this knowledge can be pooled and presented in an online I.D., for social transactions involving the user on the web to build trust. "If one hundred and twelve (112) people say my first name is Tanis, my name is alot more likely to actually be Tanis," says Jorge.
Similarly, Trulioo can be used to verify a user's location, marital status and even age - which presents an opportunity for a new level of child protection with respect to age restricted websites. "The industry has always struggled with ways to verify a child's age largely due to lack of data on children. Children may not have driver's licenses, pay utilities or have cellular phones, but they belong to communities of people who can verify their age," explains Jorge.
The online identity and age verification industry has traditionally relied upon government, credit, private and public data sources to establish a user's identity online; but have struggled with user acceptance largely due to data access restrictions internationally. Trulioo is designed for online peer to peer social interactions where basic identity information is needed, and is not restricted geographically because the data itself is contributed by its users.
Over the next year, Trulioo will launch its application on all major social networks, making its free online I.D. available to hundreds of millions of people around the world. Says Jorge, "We believe community based identity verification will usher in a new era of online safety and trust; making the Internet a more enjoyable place for everyone."
Media Contact: Stephen Ufford, 1.866.819.6127 ext. 701
About Trulioo Inc.
Trulioo is a privately held start-up with offices in Vancouver, Canada. Started in August 2007 as a side project for the design of a tool for the online dating world, Trulioo has evolved into the Internet's first global identity verification service.
###