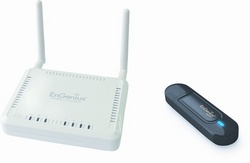 Our commercial wireless products are highly effective in places that handle far more throughput that the average home. Offering this same technology to the consumer answers the need for more reliable wireless home networking products
Costa Mesa, CA (PRWEB) September 1, 2009
EnGenius Technologies Inc., a leader in wifi business technology, has announced their emergence into the consumer wireless arena with the release of two long-range wireless home network products - the ESR-9752 and EUB-9706. Using the same innovative technological standards as in their award-winning commercial products, EnGenius engineered a wifi home router, the ESR-9752, and a complimentary USB wifi adapter, the EUB-9706, with the power to handle high payloads and long distances. As a result, the two products offer the consumer the same efficiency as commercial wifi products without the commercial price.
"Home wireless users may not be familiar with our name; but they are familiar with our products. Our wireless technology has been keeping these same users connected to their world from hotel rooms, cafes and from their boats. We are now offering this same powerful technology to them directly to improve their wireless home network experience," states Eric Deming, Home Networking Product Manager.
The ESR-9752 wireless router uses 802.11n draft standard technology which operates at 300mbps - 6x faster than the older 802.11g technology. In addition, the ESR-9752 uses QoS (Quality of Service) and SmartNAT technology to greatly increase the number data sessions opened (up to 19000) and better prioritize the data transmitted within these sessions. As a result, wireless data is not caught in a bottle-neck at the router or slowed-down by multiple throughputs. For the home user, this translates into, uninterrupted wireless downloading, gaming, VoIP and multimedia experiences.
The EUB-9706 USB wireless adapter also operates with the latest technology to comparably handle heavy data loads to and from the wireless laptop or desktop. At 300mpbs, the EUB-9706 uses similar QoS technology to prioritize the flow of traffic even in the busiest of online situations.
"Our commercial wireless products are highly effective in places that handle far more throughput that the average home. Offering this same technology to the consumer answers the need for more reliable wireless home networking products," commented Deming.
Not only can the ESR-9752 and EUB-9706 more than handle the throughput of today's fast-paced wifi family, they were also designed to do so from any room in the house. For example, the ESR-9752 has two high-gain antennas that, if necessary, are detachable and upgradable for greater range or highly sensitive directional range. Additionally, the wireless router has a wireless repeater; which when used, can extend the wireless home network range to areas that the average router could not reach. These two features can virtually eliminate those notorious dead-spots; allowing the user to connect to the internet from any place in the house.
With the release of these two wireless routers, EnGenius demonstrates the recognition of the growing need for highly efficient wifi home technology. However, they also added several unique features that make the ESR-9752 and EUB-9706 very usable and practical even for the most inexperienced home user. These include:

Push Button Technology : The router and adapter will securely connect to each other via a simple push of a button. This eliminates complicated setups with cryptic codes and technical terms.
Multiple SSIDs: The router can be configured to allow a separate limited-access "guest" wifi network.
Practical Price: As the manufacturer, EnGenius is able to offer these products at very affordable prices.
Green Technology: The router has the ability to shut-down unused connections. This increases the routers life expectancy, increases its efficiency and cuts-down on the cost of operation.
EnGenius Technologies has been successfully producing wireless products for the business market for over ten years. Using their in-depth understanding and knowledge of product innovation, they have produced two very competitive and affordable home wireless router solutions. The ESR-9752 and EUB-9706 include all the essential features and latest break-through technology for highly efficient and carefree wireless home computing, whether "surfing the web" or watching HD streaming video. They are available at select value added distributors such as ASI and Synnex, direct marketers, e-commerce sites such as Buy.com, ProVantage, and Tiger Direct, and value-added resellers at a suggested retail price of $49.99 and $29.99 respectively.
For additional information about the ESR-9752 wireless router and EUB-9706 wireless network adapter or other EnGenius products, please visit http://www.EnGeniustech.com.
About EnGenius Technologies
EnGenius Technologies is a global technology innovator specializing in long-range telephone and data communications. The company pioneered the "Affordable Long-Range Wireless" product category. Its award winning, long-range devices consistently outperform competitors' deployment coverage. Established in 1999, EnGenius Technologies, Inc. is a wholly-owned subsidiary of Senao Networks, a Taiwan RF communications manufacturing company.
###