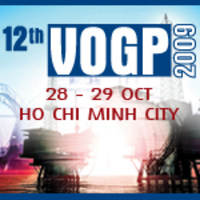 Singapore (PRWEB) September 2, 2009
As the global marketplace continues to show signs of life, Asian economies, appear poised to exit the recent downturn with solid fundamentals and strong growth prospects. Vietnam's energy sector is certainly one driving factor!
The 12th Vietnam Oil Gas & Power (VOGP) convenes in Ho Chi Minh City on 28-29 October 2009 amid major new growth in Vietnam's energy industry, covering exploration & production, downstream activities, power production, unconventional energy sources and bioenergy.
PetroVietnam's Vice President Mr. Nguyen Quoc Thap will deliver the keynote address at this event, detailing the national oil company's strategy to develop itself as a global player and international upstream investment ventures from Russia to Latin America to Iraq! Mr. Tran Thanh Tung, Deputy Director General of Ministry of Industry & Trade and Dr. Hoang Ngoc Dang, General Manager (Exploration Division) of PetroVietnam, will also share updates on future blocks and prospects in Vietnam's upstream sector at the 12th Vietnam Oil, Gas and Power .
Vietnam's growth is largely driven by success in Oil Exploration & Production. In fact, PVEP is stepping up offshore exploration to ensure crude oil output and national energy security. PetroVietnam has signed over 60 Production Sharing Contracts (PSC), with more than 50 international oil and gas companies, accounting for billions of dollars of investment. In February 2009, the government announced their plans to invite foreign companies in oil exploration & production projects in its waters in the Gulf of Thailand.
Vietnam's downstream sectors are also looking up as the nation's 1st refinery Dong Quat started commercial production, its 2nd refinery is in the construction stage and a 3rd Refinery announced.
Vietnam's power demand is also expected to surge 15-20 % annually, as the government is calling for international investments to propel its power infrastructure & resources - from coal to alternative energy.
Among the key highlights at the 12th Vietnam Oil, Gas and Power is a preview of Vietnam's yet to be announced "Power Development Master Plan 7". What are the key changes to the revised Master Plan compared to the current plan 6? Institute of Energy Vietnam, the agency appointed to study key factors such as feed-in tariff and Government guarantee scheme will present the next phase of Vietnam's plans to create a competitive power retail market and attract investments.
VINACOMIN and PetroVietnam will also unveil the future of Vietnam's coal industry at the summit. PVEP will touch on Vietnam's Coal Bed Methane potential in the Hanoi Basin, and share strategies and plans to develop Coal Bed Methane in Vietnam. Coal Bed Methane offers a new window for foreign developers to participate in equity projects with PetroVietnam or VINACOMIN, either in developing Coal Bed Methane resources, or as a service provider. VINACOMIN will touch on the potential and feasibility of Underground Coal Gasification (UCG) for power generation, and provide a vision into the future of UCG in Vietnam.
Other important sessions on the 12thVietnam Oil, Gas and Power agenda:

Perspectives from block operator, Salamander Energy on their experience in Cuu Long River Delta, and why Cuu Long basin is an attractive exploration acreage!
KBC Advanced Technology Pte Ltd's experiences and insights on setting up an optimal refinery & petrochemical integration complex in Vietnam.
PetroVietnam Gas Corporation's update on Vietnam's natural gas markets- from price movement to infrastructure development plans.
Project sharing by PetroVietnam Biofuel Company on Vietnam's 1st bioethanol plant & how it will revolutionize the biofuel industry.
12th Vietnam Oil, Gas and Power is now welcoming registrations from around the world. hose keen to find out on Vietnam's Oil Exploration & Production, Natural Gas, Coal Bed Methane, Refinery, Biofuel & Power developments should attend 12th VOGP 2009 For enquiries on media partnerships, exhibition space and / or sponsorship packages contact Ms. Injleep 65 63469113.
###