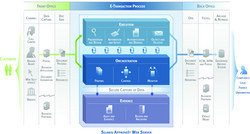 While identifying the people involved in a transaction and securing the contents of an e-signed document are essential for purposes of authentication, they are not the only factors needed to enforce an agreement
Montreal, QC (PRWEB) September 10, 2009
Silanis Technology, the leader in electronic signatures, today invited compliance officers, risk management executives and legal council to view a demonstration of how the company's next-generation, e-signature process management solution produces stronger legal evidence than hand-signed, paper documents.
The demonstration, available at http://www.silanis.com/support/download-a-demo/approveit-web-server-demo.html, illustrates how ApproveIt Web Server records, secures and reproduces electronic transactions from start to finish, including the exact appearance of all web pages, documents and disclosures that were presented to parties over the web, and all actions that were taken during the e-transaction.
"While identifying the people involved in a transaction and securing the contents of an e-signed document are essential for purposes of authentication, they are not the only factors needed to enforce an agreement," said Tommy Petrogiannis, President and Co-Founder of Silanis Technology.
Most legal disputes do not question whether a signature belongs to a person or whether a document has been altered, explains Petrogiannis, they challenge people's understanding of the contract terms and conditions at the time of signing. That is why reliable evidence of what took place during the entire e-transaction is needed and why a solution needs to reproduce every step in the process.
"Capturing and reproducing the entire electronic transaction as evidence can be a daunting task. An enormous effort on behalf of the business, legal, compliance and IT teams would be required to retrieve all of the data, business process and policies needed to accurately rebuild the web page contents and reproduce the exact process that occurred," said Petrogiannis.
During the demonstration, organizations will discover how ApproveIt Web Server:

Captures the entire e-transaction, including all web pages and documents that were presented, viewed, signed or accepted and how long was spent on each page.
Secures the electronic evidence using digital signature technology to ensure that it is tamper-proof.
Accurately reproduces the entire e-transaction from start to finish in a format that can be easily presented for litigation, regulatory or internal control purposes
And more
To view the demo, please visit: http://www.silanis.com/support/download-a-demo/approveit-web-server-demo.html
About ApproveIt Web Server
ApproveIt® Web Server is an enterprise-class E-Signature Process Management solution that transforms any paper-based process to an all-electronic, web-based e-transaction. The features and functionality reflect feedback from real-world deployments across insurance, financial services and government mission-critical applications. ApproveIt Web Server responds evolving market demands for a more comprehensive e-signature offering that addresses the complexity of compliance-driven business transactions. It was designed to provide maximum flexibility, scalability and auditabilty, leading to greater adoption, easier implementation, and decreased risk.
About Silanis
Silanis Technology is the leading provider of e-signature process management solutions. The world's leading insurance and financial services companies, major government agencies, integrators and service providers depend on Silanis to accelerate business transactions and reduce costs while improving compliance with legal and regulatory requirements. The company's electronic signature platform, ApproveIt®, is an enterprise-class e-signature process management solution that transforms paper-based business transactions to all-electronic, web-based processes for e-commerce and e-government. Visit us on the web at http://www.silanis.com
###