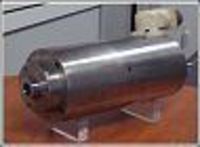 We are proud to be an exclusive agent for Dittel's product line of process monitoring and control equipment, as we (GTI) can provide our customers with a wide range of services that benefit their bottom line, while keeping their business operations running smoothly
Manchester, NH (PRWEB) September 1, 2009
GTI Spindle Incorporated, one of the world's largest and fastest growing spindle remanufacturers, located in Manchester, NH, is an exclusive North American agent of Walter Dittel, offering its customers process and balance control systems proven to provide cost-saving benefits by optimizing the entire grinding process.
A recent case study demonstrated that customers who utilized Dittel, such as their electronic controllers and sensors used for acoustic emissions (AE) and automatic balancing in their operations realized a significant savings in various cost centers of their business. The improvements reduced costs involved in tooling, scraps, spindle repair, capital avoidance, redeploy machine, maintenance, and labor.
"We are proud to be an exclusive agent for Dittel's product line of process monitoring and control equipment, as we (GTI) can provide our customers with a wide range of services that benefit their bottom line, while keeping their business operations running smoothly," remarks Thomas Hoenig, GTI President.
GTI can provide onsite assessment and training programs, U.S. sales and service for all Dittel systems, system configuration assessment, -spindle engineering, retrofit, and parts support. Its sales staff provides expert advice about the various systems that are the most appropriate for the application, such as Dittel's Acoustic Emissions used in first contract detection, process visualization and optimization, crash control, or grinding; or Dittel's Automatic Balancing application for counterbalancing a grinding wheel imbalance.
Companies interested in learning more about the cost benefits of Dittel machine tool accessories should call GTI sales at 888-473-9675, or visit our website at http://www.gtispindle.com for more information.
About GTI
GTI Spindle Technology with locations in Manchester, NH, Bloomington, IL, Romulus, MI and Pontiac, IL offers a variety of services including failure analysis and corrective action programs, vibration analysis diagnostics and guaranteed cost savings programs. They inspect, repair and remanufacture spindles and other precision rotating assemblies including super precision high frequency, motorized, belt and gear driven spindles with emphasis on Japanese and European High Speed Machining Centers.
###