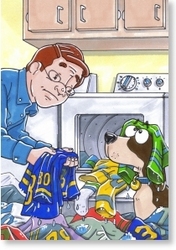 It needs to be washed
Canton, MI (Vocus) September 1, 2009
Soccer practice, cheerleading tryouts, orchestra rehearsal, and a track meet. That's just Monday! And, of course, the laundry has to be done, so this can all be repeated on Tuesday.
A team of appliance experts at Repairclinic.com (including several working moms), known as RepairGurus, have come up with some great "teamwork" tips to try to make laundry a little more bearable for busy parents by engaging those "little people" in the process. Yes, even laundry can be a sport!
Minimize the amount
Teach school-age kids the difference between "I wore it for 2 hours", and "It needs to be washed". Have them check for smells or stains. Especially if it's a pair of pants, they can usually be worn again.
Ask them to help sort the laundry before it goes in the washer -- it will be a great introductory for "Laundry 101" which is definitely in their future. This will quickly teach them to be more careful about how often they throw not-so-dirty clothes in the dirty clothes hamper.
Prioritize the wash
Set up a couple of separate dirty- laundry bins - one for whites and one for colors -- usually kept in the kids' bathroom or bedroom area.
Consider having a third bin, reserved just for "emergency laundry" such as the usual "we have a soccer game tomorrow, and I need this washed tonight" bin, probably next to the washing machine--label it with a sign that says: "URGENT".
Individualize the chores
Require them to be responsible for bringing their laundry to the hampers either in their bathroom area or their bedroom. Help them to realize that only the laundry that makes it to hamper will be washed.
Purchase separate baskets or bins for each kid (labeled with their name) depending on their ages, so they can carry their own laundry to their room and put it away themselves.
Sterilize the process
Ask them, no, beg them not to leave gum, candy, money, Chapstick, cell phones or iPods in their pockets.
Remind them to inform parents in advance when there are serious stains on a piece of clothing -- Kool Aid, chocolate, mud, etc.
Colorize the Sorting
If there are several children in the home, assign a different color code to each one (requires some planning for purchasing color-coded clothing): Johnny has all the red tipped socks; Tommy has all the blue tipped socks,;Jenny has all the pink underwear, and Mary has all the lavender ones. This will save some serious time when it comes to sorting--not as much time is spent looking at tags.
Socialize the labor
Hold a Friday night (or another night) sorting party! This works well with school-age kids, usually not teenagers,unless there are major incentives like money, car-use, etc. With younger kids, offer a nickel for every pair of socks that are matched, and maybe even sneak the job in while they're watching their favorite TV program.
When the party is over, have some pizza, go bowling, play board games, or offer other fun activities that can be used as incentives in advance.
Celebrate
Enjoy a newly streamlined system; high-five the new laundry team, and savor moments spent working together with the kids. Remember, it won't be long 'til they'll be off to college!
About Repairclinic.com
Founded in Canton, Michigan, in 1999, RepairClinic.com® is the most comprehensive online resource for do-it-yourself home appliance repair help, parts and information. The site features more than 80 appliance brands--including Kenmore, Whirlpool, Maytag, GE, Frigidaire, and LG--across 16 appliance types (e.g., washers, dryers, refrigerators, stoves, ovens, and dishwashers). Do-it-yourselfers use the helpful PartDetective® to find the part they need or the leading-edge service, RepairGuru®, for customized, free repair help online. Appliance parts are stocked in a 72,000 sq. ft. facility and shipped the same business day. Visit RepairClinic.com for more information.
For media inquiries, contact Luanne Berk at 734-495-3079 ext. 303.
###