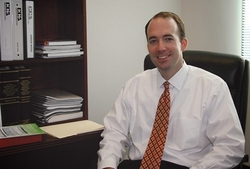 Mr. Swindle has made significant contributions to the company by working collaboratively with many CCA team members in various departments
Nashville, TN (Vocus) September 1, 2009
Corrections Corporation of America, the nation's largest provider of corrections management services to state, federal and local government, recently announced the appointment of Patrick Swindle as vice president and treasurer.
Swindle joined the company in 2007 as managing director, Treasury. He previously spent 10 years conducting equity research for SunTrust Equitable Securities, Raymond James Financial Services, Inc. and Avondale Partners LLC. Swindle holds a bachelor's degree in finance from Western Kentucky University.
"Mr. Swindle has made significant contributions to the company by working collaboratively with many CCA team members in various departments," said Todd Mullenger, CCA executive vice president and chief financial officer. "His strong analytical skills very quickly helped us to develop new contract proposals and construction management projects. I am confident that he will continue to help the company make considerable strides."
About CCA
CCA is the nation's largest owner and operator of government-contracted correctional and detention facilities and one of the largest prison operators in the United States, behind only the federal government and three states. CCA operates 65 facilities, including 40 company-owned facilities, with a capacity of approximately 86,500 beds, in 19 states and the District of Columbia. CCA specializes in owning, operating and managing prisons and other correctional facilities and providing inmate residential and prisoner transportation services for governmental agencies. In addition to providing the fundamental residential services relating to inmates, our facilities offer a variety of rehabilitation and educational programs, including basic education, religious services, life skills and employment training and substance abuse treatment. To learn more about CCA, visit http://www.correctionscorp.com and online news site http://www.insidecca.com.
###