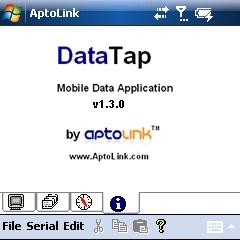 DataTap also enables the user to collect discrete location GPS data and add notes, edit or delete the entry. This data is saved in a .CSV file (that is similar to an Excel file format)
San Jose, CA (PRWEB) September 1, 2009
AptoLink™, a system design and services company that creates innovative consumer electronics and data communication products, announced today the release of DataTapTM - a GPS (Global Positioning System) and LBS (Location-Based Services) software for mobile devices that enable the user to collect continuous, or streaming, GPS (NMEA) data and discrete, or point, location, GPS data taken during the person's activity, travel or work. DataTap presently works with SD GPS and Bluetooth-GPS devices to collect the data.
GPS data provides information on location, speed, time, date, altitude, direction and bearing of the person's route, and when visually displayed, can increase the enjoyment of one's activity and makes the route traveled more interesting. "DataTap enables people to further understand their activity by data-logging their routes or travels as they go from start to finish," said Young Park, VP of Business Development and Sales. "Activities that use continuous GPS data-logging are dynamic activities, such as driving, cycling, running, hiking and walking. DataTap provides the user the capability to collect their dynamic activity on their mobile device, and analyze or view it on their PC, or share it with friends," he continued.
"DataTap also enables the user to collect discrete location GPS data and add notes, edit or delete the entry. This data is saved in a .CSV file (that is similar to an Excel file format)," mentioned Young. "Activities or use cases that would use discrete location GPS data-logging include golf tee and fairway shots, landmarks, geo-caching, real estate, parked car location, fishing spots, restaurant or store locations, and crop or wilderness locations. We've have agricultural departments use DataTap to mark tree, traps and other outdoor locations saving them hundreds of hours of effort and tens of thousands of dollars, while increasing their productivity," he added.
DataTap features include: compass that displays true north and its bearing, speed, latitude, longitude and altitude, the number of satellites that are visible and in use, fix status, font size, and English and Metric units - feet & mph or meters & km/hr. The compass feature is not available on the Palm version.
DataTap's autoload program and "single user license", or EULA, is in English, French, German and Spanish.
Product Availability:
Serial-Link is available at AptoLink website - http://www.AptoLink.com.
About AptoLink™
AptoLink is a system design and services company, creating innovative consumer electronics and data communication products including web-based applications. Products are used by everyday consumers as well as for commercial applications. AptoLink also provides hardware and software design services and manufacturing services to enable the realization of third-party designs. AptoLink solutions are available for channel resellers, VARs and OEMs to license for resale.
###