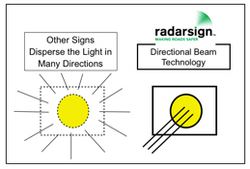 Every part of each Radarsign was built with a single purpose in mind: to deliver superior quality and functionality
Alpharetta, GA (PRWEB) September 1, 2009
Radarsign, LLC, the leading manufacturer and retailer of traffic calming solutions, today announced its Directional Beam technology delivers a higher quality of display for drivers, even in bright sunlight, to slow speeding drivers.
"Every part of each Radarsign was built with a single purpose in mind: to deliver superior quality and functionality," explains Charlie Robeson, co-founder of Radarsign. "Our Directional Beam reflects the light directly toward approaching vehicles, making the display easy to see, even in the brightest sunlight. Other products do not use a cone to focus the light, making it more difficult to see - which defeats the whole purpose of the sign."
Radarsign's unique design provides a cone effect to magnify the intensity of the light and direct it towards the view of approaching drivers. Focusing the light into a single direction also means each sign draws on less power - one of the reasons Radarsign brand products are the most energy-efficient traffic calming solutions on the market. This makes roads safer and the environment cleaner.
Some recent examples of Radarsign's success include Stone Mountain Park, where seventy percent of all drivers were speeding in the 3200 acre park; Radarsign driver feedback signs brought that total number down to twenty-three percent. In a Dunwoody school zone, Radarsign reduced the total number of speeders by fifty percent.
About Radarsign:
Radarsign is the country's most affordable, reliable and effective provider of driver feedback signs. Delivering the most energy efficient products on the market, our "built-for-the-job" design, makes our signs a very dependable and easy-to-use traffic calming solution. Radarsign products are available in a variety of sizes and mounting options (pole-mounted, mobile stand, trailer-hitch mount, etc.) and provide a proven and affordable solution to calming traffic in neighborhoods, school zones, military and corporate campuses, as well as city streets and highways. For more information visit: http://www.radarsign.com
.
###