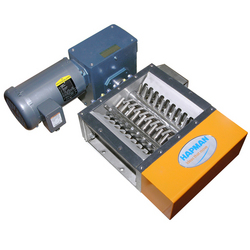 (PRWEB) September 2, 2009
The LumpMaster™ has a compact, low-profile design, which allows it to be easily mounted beneath a hopper or integrated into existing production equipment. The basic LumpMaster is the standard 1200 series and has a 12-inch by 12-inch inlet. Height of the processing inlet containment mechanism for the LumpMaster™ is 9 inches. Up-sized models are available to customer specifications. In most cases, the LumpMaster is used in conjunction with the bag dumping of standard 5 to 50 pound bags of material or large size FIBC bulk bags, which are suspended from a bulk bag unloader frame. The materials contained within these bags, may have become solidified due to natural gains in moisture from the atmosphere of the facilities in which they were stored, or in other cases where their natural high moisture content promotes settling over time.
The LumpMaster™ performs its reduction process through the use of two heavy-duty gear-driven, counter-rotating shafts, with evenly spaced impacting fingers, which interact with replaceable combs located on the sidewalls. LumpMasters™ are engineered with shaft seals, heavy-duty roller bearings, and direct drives. Drive motor and gear assembly can be specified as horizontal or vertical and orientated to the customers specification. This design is very effective in the reduction of many compacted materials, which have a partial flow potential and it produces a desirable smaller, more manageable, product for blending purposes. Popular options include wash down or explosion proof construction and controls. Finishes may be painted carbon steel or 304/316 stainless steel in standard or polished food grade finish.
Hapman tailored systems carry the Hapman Performantee™, the industry's first true Performance Guarantee." It states simply that Hapman guarantees that the equipment Hapman manufactures will achieve the specific results for which it was designed. Should the equipment not perform as designed Hapman will revise, repair, or make whatever changes are necessary to achieve the proper operation of the equipment in the application.
Hapman's product line is used extensively by the world's leading corporations in the handling of powders and bulk solids for food, chemical, pharmaceutical, plastics and other industrial processors. Equipment may be specified as Standard Finish, Sanitary Finish and finished for use in USDA Dairy Grading Branch Facilities. Hapman is the only manufacturer that has received the USDA Equipment Acceptance Certificate for use in USDA Dairy Grading Branch Facilities.
Hapman's Ideas that move™ combine over 60 years of experience with the most technologically advanced equipment available. Hapman's product line includes their exclusive Helix™ Flexible Screw Conveyors, MiniVac™ Pneumatic Conveyors, Tubular Drag Conveyors, and PosiPortion™ Feeders, along with complete engineered systems. Hapman's broad equipment selection allows the widest possible array of materials to be properly handled - from highly abrasive, extremely hot or cold to materials which may be subject to degradation. Complete systems may feature batch weighing, dust control/collection, bag dump stations, bulk bag unloading and filling, and made-to-order units to interface with a customers existing equipment.
Hapman's world headquarters are located in Kalamazoo, Michigan (half way between Detroit and Chicago), and has facilities and sales offices in India, Slovakia, and the United Kingdom. For more information, please visit http://hapman.com/repsWW.php.
###