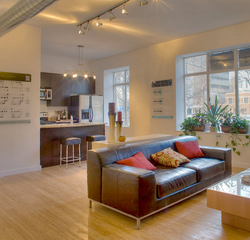 Whether you are a first time buyer or an investor seeking to add to your portfolio, these fabulous lofts are worthy of serious consideration, especially since they are being sold at auction, enabling buyers to literally name their price on a fantastic condominium residence
New York, NY (PRWEB) September 1, 2009
The date for the Sheldon Good auction of 19 beautifully designed one- and two-bedroom, new, loft condominiums at Loft 881, situated in sought-after Fairfield County's Bridgeport, Connecticut, has been extended three weeks. Originally scheduled to take place on August 30th, the auction will now be held on Sunday, September 20th.
The auction will be held at the same time and venue as before: the Trumbull Marriott, 180 Hawley Lane, Trumbull, CT. Registration begins at 11:00 am and the auction commences at 12:00 noon. The extension allows for the scheduling of additional open house dates, enabling onsite inspections, namely:
Sunday, August 30th: noon to 3pm
Friday, September 11th: 3pm to 7pm
Saturday, September 12th: noon to 3pm
Sunday, September 13th: noon to 3pm
Friday, September 18th: 3pm to 7pm
Saturday, September 19th: noon to 3pm
According to Michael Fine, Executive Vice President of Project Management for Sheldon Good & Company, "During the auction process, we have been able to secure many very attractive and affordable low down payment financing programs and we wanted bidders to have ample time to evaluate these exciting opportunity for financing. We have also lowered the cashier's check amount required to bid at the auction to $4,000 for a one-bedroom and $6,000 for a two-bedroom. The condos were respectively priced at $264,000 and $360,000 previously."
The seller is also in the process of completing a number of construction items within the building. The new auction date will allow prospective bidders to see the completed works prior to the auction.
The purchase of a Bidder's Information Packet is required in order to buy at the auction, and is available at all open houses or can be ordered in advance by contacting Sheldon Good & Company's offices at 800 315-2199.
The homes range in size from 540 to 1,452 square feet. They feature sleek kitchens with custom cabinetry, granite countertops, a full complement of stainless steel Frigidaire appliances, exposed brick walls, desirable "green" bamboo flooring,10-foot ceilings with exposed air ducts, open dining areas, luxurious baths, and ample closet space. Some of the bi-level townhome-style residences offer private terraces, perfect for outdoor entertaining. Amenities at the pet-friendly development include in-residence laundry connections, parking, key card building access with video surveillance, on-site fitness center, high efficiency HVAC systems, and of course pre-wiring for telephone, Internet and cable, and panoramic views of Long Island and the Sound.
Many Manhattan-based apartment dwellers, as well as residents in White Plains and Stamford are attracted to Bridgeport because of the resurgence of its downtown. Residents can also buy a lot more for their money in Bridgeport than in other communities. New York City is easily accessible by both Amtrak and Metro-North commuter trains. A ferry service, accommodating both passengers and automobiles, runs across Long Island Sound to Port Jefferson, New York.
Within walking distance of the property lies the 370-acre green expanse of Seaside Park offering a sanctuary from the urban landscape. Residents can enjoy sandy beaches, sports fields, towering trees and sweeping views of Long Island Sound, which is virtually an extension of their own backyard.
Home to both the University of Bridgeport and Houstonian Community College, Bridgeport's public school system offers 30 elementary schools, three comprehensive high schools, two alternative programs and an inter-district vocational aqua-cultural school. The City has begun a large school renovation and construction program, with plans for new schools and modernization of existing buildings.
"Whether you are a first time buyer or an investor seeking to add to your portfolio, these fabulous lofts are worthy of serious consideration, especially since they are being sold at auction, enabling buyers to literally name their price on a fantastic condominium residence," added Mr. Fine.
For additional information about the upcoming auction sale, please contact Sheldon Good & Company at 1-800-315-2199.
About Sheldon Good & Company:
Sheldon Good & Company Auctions has been rated the premier real estate auction company by a number of prestigious financial publications. The company has aggregate sales of over $10 billion. For further information, please call Sheldon Good & Company at (800) 315-2199.
###