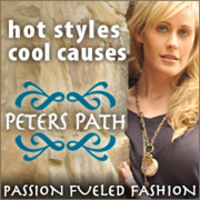 We are thrilled to open our flagship store in the Lawrenceville square
Lawrenceville, GA (PRWEB) September 1, 2009
Peters Path Corporation, http://www.peterspathstore.com, an online boutique that donates portions of all sales, to various charities, will open its first store on Saturday, September 5 at 10 a.m. The store is located in the historic square of Lawrenceville, GA at 128 East Crogan Street. Peters Path boutique will feature apparel, jewelry, accessories and home goods.
The store will offer the same well -known brands as sold on their website, http://www.peterspathstore.com such as; Johnny Was, Alternative Apparel , Young, Fabulous and Broke, and DL1961 denim, as well as additional new brands and home items. They will be carrying newer designers, local artists, and one of a kind pieces. They will also feature a local charity every month, and portions of sales from that month will be donated to them. This follows their socially conscious online model, which allows shoppers on the Peters Path website to choose a charity when they check out.
"We are thrilled to open our flagship store in the Lawrenceville square," says Christine Peters, President and founder of Peters Path Corporation. "It was a dream of mine to help people in need and raise awareness of those less fortunate, by creating Peters Path and launching an online store. This is an even greater accomplishment to be able to interact with customers face to face and share our passion for fashion and philanthropy with them."
Since launching the online store in February 2009, Peters Path has donated funds to a number of charities through online purchases, as well as through various events and trunk shows. The idea for combining fashion and philanthropy has been an ambition of Christine's for many years. She has spent time volunteering at an orphanage in Mexico, as well as other nonprofit organizations in the course of her life, and is excited to be able to combine it with her career as well now.
Store hours: Tuesday thru Thursday from 10:30 7:00 p.m., Friday and Saturday from 10:00-8:00 p.m.
For more information, please visit http://www.peterspathstore.com.
###