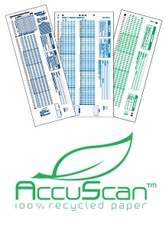 Eco-friendly laws are continuously being passed by states requiring that their state agencies use 100% recycled paper where available
Los Angeles, Calif. (Vocus) September 2, 2009
The ubiquitous bubble-in answer sheet familiar to every student in America just joined the ranks of the go-green movement – thanks to the efforts of Apperson Education Products, a leading provider of test scoring and assessment solutions. Understanding the challenges of the current economy, this progressive, family-owned company has decided to absorb the additional costs of producing a 100% recycled product to help ensure a greener future for our planet.
"In our efforts to lower our carbon footprint and become a more eco-friendly company, we've engaged our key paper suppliers to help us in providing a 100% recycled paper answer sheet to the education community," said Kelly Doherty, President of Apperson Education Products. "Our biggest challenge has been overcoming the increased costs as compared to virgin paper but we've made the decision to absorb these costs."
With the slowed economy and numerous frozen school budgets, any type of cost increase, even for an eco-friendly product, would prohibit many schools from making the change even if they wanted to. However, a 100% recycled paper answer sheet is a product that is much too critical to wait for the economy and school budgets to bounce back.
"We are absorbing the costs because it is not only environmentally responsible, but it is the right thing to do for our educators and students," said Bill Apperson, CEO of Apperson Education Products. "Our goal is to be friendly to the environment and the school budget."
Preserving the environment is one of Apperson's key concerns. By converting their most popular answer sheets, not only will Apperson save more than 950 tons of trees annually, but Apperson will conserve more than 2.5 million gallons of water, which is equivalent to four Olympic-sized swimming pools, 290,000 pounds of solid waste, which is equivalent to eleven garbage truckloads, and 600,000 pounds of greenhouse gasses, which is equivalent to the emissions from 55 cars. These are the annual environmental savings that drive Apperson to make this bold transition.
"Eco-friendly laws are continuously being passed by states requiring that their state agencies use 100% recycled paper where available," said Abel Garcia, Vice President of Marketing for Apperson Education Products. "Having a 100% recycled paper bubble-in answer sheet available to the education community will not only have a great effect on the environment, but will assist in adhering to these regulations."
Apperson plans to convert its most popular answer sheets to 100% recycled paper after the regular virgin-paper stock is depleted to ensure all stock currently stored in the warehouses are consumed. Apperson estimates that they will start distributing its 100% recycled paper answer sheets during the fall of 2009.
"We are looking forward to seeing the response from the education community this fall," said Garcia. "And we hope to see more and more schools, colleges, and universities support us so we can continue our efforts."
Established in 1955, Apperson enables education, corporate, and government organizations to quickly capture the data and information they need to accurately assess performance and measure success. For more information, please call 800.827.9219 or visit their website at http://www.appersonedu.com .
###