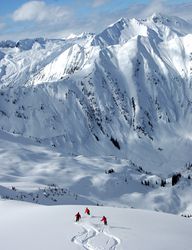 Banff, Alberta (Vocus) September 1, 2009
CMH Heli-Skiing is offering the most cost-effective way to reach the deep powder slopes of the Selkirk and Monashee ranges of British Columbia. The rate for an all-inclusive heli-ski trip to CMH Kootenay is only $975 CAD per day – but only for those who book before September 15, 2009. A three-day heli-ski trip includes a skiing guarantee of 13,110 vertical metres (43,000 ft). After September 15, 2009, prices will increase to $1150 CAD per day.
With two mountain ranges to choose from, endless valleys of perfectly spaced trees, wide open bowls and world renowned powder snow, CMH Kootenay is a skier's paradise. Blessed with abundant snowfall and plenty of terrain to choose from, guests will never run out of fresh slopes to ride. The base for Kootenay Heli-Skiing is the Kuskanux Lodge in the village of Nakusp. This in-town location means Wi-Fi internet connection, comfortable and modern guestrooms and a great lounge where you can mix and mingle with fellow heli-skiers and local residents alike.
Trips include ground transportation from Spokane, WA or Calgary, Canada to the village of Nakusp, BC; daily heli-skiing with IFMGA or ACMG certified guides; accommodation at the Kuskanux Lodge; gourmet meals, freshly prepared snacks, and all non-alcoholic beverages; use of specially designed powder skis and poles; training in and use of avalanche transceivers.
For more information and to book, please go to our website, CanadianMountainHolidays.com or call 1-800-661-0252.
About Canadian Mountain Holidays (CMH Heli-Skiing):
Offering heli-adventures since 1965, Canadian Mountain Holidays is the oldest and largest heli-skiing and heli-hiking operator in the world. From their head office in Banff, Alberta, CMH operates exceptional helicopter adventures from 12 different areas located in the Bugaboo, Purcell, Selkirk, Kootenay, Monashee, and Cariboo ranges of British Columbia, Canada. Helicopter skiing takes place from December through April, and heli-hiking from July into early September.
Contact:
Sarah Pearson
Canadian Mountain Holidays (CMH Heli- Skiing)
403-762-7100 or 1-800-661-0252
###