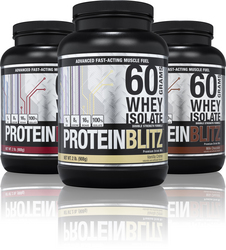 PROTEIN BLITZ, with three amazing flavors, is perfect for the hardcore bodybuilder, gym-rat, and athlete who is looking to pack on muscle and lower body fat
Carlsbad, CA (Vocus) September 1, 2009
Introducing double strength PROTEIN BLITZ a new line of advanced whey protein isolate products from Next Proteins, Inc. specially designed for serious training and packed with 60 grams of the purest protein on the planet. PROTEIN BLITZ (MSRP $44.99) is available now at GNC and Vitamin Shoppe locations nationwide in Vanilla Crème, Milk Chocolate and Strawberry Cream.
"PROTEIN BLITZ, with three amazing flavors, is perfect for the hardcore bodybuilder, gym-rat, and athlete who is looking to pack on muscle and lower body fat," commented David Jenkins, Chief Executive Officer for NEXT Proteins, Inc. "Hardcore training always involves two phases, the gaining phase and the dieting phase. Both require totally different training. What must be consistent during either phase is keeping muscles full of high quality protein."
Each serving of PROTEIN BLITZ contains an unmatched 8 grams of the anabolic driver- Leucine, 60 grams of peptide bound amino acids, 16000 mg of the muscle fueling branched chain amino acids, 280 calories, and just 1.5 grams of fat; the perfect formula for creating the anabolic environment. PROTEIN BLITZ is digested quickly, so no time is wasted delivering key amino acids to starving muscles. With unbelievable taste, PROTEIN BLITZ powders should be used in conjunction with bodybuilding, strength training, interval training, or any gut busting workout that requires a quick supply of amino acids.
PROTEIN BLITZ is also available in a ready-to-drink format. Each 20 oz PROTEIN BLITZ drink contains 30 grams of advanced fast acting muscle fuel and 7800 mg of muscle-building BCAAs (Branched Chain Amino Acids). PROTEIN BLITZ drink is available in Grape, Punch and Orange Mango flavors. Visit http://www.proteinblitz.com.
###