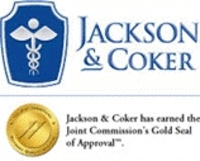 With all the dramatic changes occurring in the world of medicine, we felt it advisable to tap the thinking of executives who are on the forefront of healthcare delivery
Alpharetta, GA (Vocus) September 1, 2009
Jackson & Coker has initiated dialogue with prominent healthcare executives across the nation in an effort to present their timely views and insights in the company's online monthly publication, the Jackson & Coker Industry Report. (http://www.jacksoncoker.com/physician-career-resources/newsletters/2009-july.aspx)
"With all the dramatic changes occurring in the world of medicine, we felt it advisable to tap the thinking of executives who are on the forefront of healthcare delivery," said Sandra Garrett, president of Jackson & Coker. "The perspective of those who are in key leadership roles should be extremely valuable to everyone in the medical community concerned about the future of healthcare," she added.
The latest edition of the Jackson & Coker Industry Report introduces a new regular column entitled "Healthcare Executives' Insights." It presents in Q&A format the views and opinions of two representatives of Community Health Systems (CHS), which operates acute care hospitals nationwide and is affiliated with over 120 hospitals in 29 states that collectively represent over 18,000 beds. Detailed information concerning CHS can be accessed at http://www.chs.net.
Jerry Weissman, Vice President, Medical Staff Development, and David Baker, Regional Director, of Community Health Systems visited Jackson & Coker's corporate headquarters in metro Atlanta in July and offered their candid assessment of significant issues and notable trends affecting healthcare delivery in the United States.
"We are pleased to present the insights of executives of a large health system," mentioned Edward McEachern, Jackson & Coker's Vice President of Marketing, who helped arrange the visit, "and look forward to spotlighting the views of other prominent leaders in various healthcare industry sectors."
The current edition of the Jackson & Coker Industry Report featuring "Healthcare Executives' Insights" can be accessed here.
About Jackson & Coker
Headquartered in metro Atlanta, Ga., Jackson & Coker (http://www.jacksoncoker.com) is a leader in the physician recruitment industry. With over 31 years of continuous business operations, the firm has earned a reputation for providing cost-effective, time-sensitive staffing solutions to both government and commercial health care organizations. The firm has two divisions: Retained Search, which places doctors in over 40 medical specialties in permanent positions, and Locum Tenens, which fills temporary vacancies.
Jackson & Coker has earned a "Gold Seal" designation as a "Certified Health Care Staffing Service" by the Joint Commission and is affiliated with a Credentials Verification Organization that has received certification by the National Committee for Quality Assurance (NCQA) in ten out of ten credentialing elements.
###