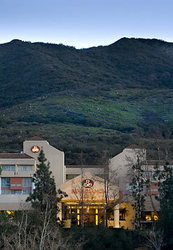 Agoura Hills, CA (PRWEB) September 2, 2009
Food, shopping and fun are more exciting and affordable than ever with the latest Malibu hotel package. Those looking for Thousand Oaks hotel specials that keep them close to the shopping and fun need to look no further. The Renaissance Agoura Hills Hotel is offering the Shop 'Til You Drop Package, and the package lives up to its name.
Guests who choose the best of the Agoura Hills hotel specials for shopping will be in close proximity to Camarillo Premium Outlets, the leader in affordable luxury in the area. Shoppers will find impressive savings of 25-65 percent off every day at 160 designer and name brand outlet stores including Barneys New York, Coach, Calvin Klein and Saks Fifth Avenue Off 5th. A close proximity to the best shopping in Southern California is not all people will receive with the Malibu hotel package. They will also enjoy luxurious accommodations for two at the Renaissance Agoura Hills Hotel, round trip transportation to and from Camarillo Premium Outlets, a VIP coupon book and complimentary self parking. In addition, they will get to enjoy food at the best of the Malibu CA Restaurants courtesy of the hotel package. They will receive breakfast for two at the H20 SeaGrill. The grill offers California style cuisine and is known for its great food and ambiance. Those who upgrade their package with also receive a $50 dining credit for the H20 SeaGrill.
Rates are from $1870-$279. The special is valid through December 31, 2009. Guests need to make sure the code SHO is in the Corporate/Promotional Code box in order to receive the deal.
For more information, visit http://www.marriott.com/hotels/travel/laxag-renaissance-agoura-hills-hotel/ or call 1-800-HOTELS-1.
About the Renaissance Agoura Hills Hotel
The Renaissance Agoura Hills Hotel is in the foothills of the Santa Monica Mountains. The hotel offers beautiful views and luxurious accommodations. The hotel is newly renovated and is located close to some of the biggest attractions in the area, including Camarillo Premium Outlets and gorgeous beaches. The hotel is also home to the H20 SeaGrill and Liquid Lounge.
###