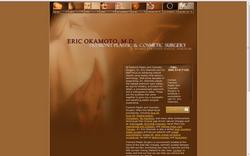 Fremont, CA (Vocus) September 1, 2009
More than 10.2 million people had some type of aesthetic enhancement treatment in 2008. This, according to a recent study by the American Society of Aesthetic Plastic Surgery, is a 162 percent jump since 1997. The study also reflects the popularity of specific surgical and non-surgical cosmetic enhancement procedures, with breast augmentation topping the surgical list and BOTOX® Cosmetic injections heading the non-surgical portion of the survey.
Fremont Plastic Surgery, a practice devoted to skin rejuvenation and plastic surgery in the East Bay area of San Francisco, sees firsthand the growing number of patients seeking a surgical or non-surgical remedy for issues they have with their appearance. The director of the practice, Dr. Eric Okamoto, offers a comprehensive range of procedures for patients that are designed to reduce the typical signs of aging, recontour the body, and rejuvenate self-esteem by allowing them to feel better about the way they look.
For East Bay area breast augmentation patients, Dr. Okamoto can add volume to the breasts for a shapely appearance that's more proportionate to the body frame. For surgical facial rejuvenation, Dr. Okamoto can reduce the appearance of aging and fatigue with facelift or eyelid surgery procedures. Liposuction and tummy tuck options offer patients the opportunity to eliminate excess fat and skin folds that are resistant to diet and exercise, recontouring areas of the body for a more fit aesthetic appearance.
At his practice site in Fremont, Dr. Okamoto also offers a unique alternative to people who would like to enhance their appearance with more subtle, but effective results in a medically-supervised rejuvenation spa. Along with his associate John A. Romano, M.D., both plastic surgeons established MedSpa 29, which offers a number of procedures, such as laser hair removal, skin care product lines, organic facials, and BOTOX® injections for East Bay skin care patients and those looking to renew their appearance without invasive surgery. As Dr. Okamoto explains, "Our capabilities for rejuvenating faces in an office setting have expanded immensely with new technologies and new techniques emerging over the past decade. However, let it be said that these processes are not meant to replace surgery. Nevertheless, the ability of providing meaningful aesthetic changes in an office where patients are able to pursue their busy schedules without breaking stride cannot be underestimated."
With the surging numbers of people, both men and women, seeking some help to address issues they have with their appearance and reduce the typical signs of aging, Dr. Eric Okamoto continues to spend his career helping others look and feel better about themselves.
About Dr. Okamoto
Dr. Eric Okamoto is board-certified in both plastic surgery and otolaryngology (ear, nose, and throat surgery). He is a graduate of Stanford University, and earned his medical degree from UCLA in 1972. Dr. Okamoto has been in private practice as a plastic surgeon in Fremont, California and the East Bay area since 1983. He is a member of the American Board of Plastic surgery, the American Board of Otolaryngology, the American Society of Plastic Surgeons, the American Society of Aesthetic Plastic Surgeons, the American Society for Laser Medicine and Surgery, the American Medical Association, the California Medical Association, and other prestigious national medical organizations. Also experienced in reconstructive procedures, Dr. Okamoto primarily focuses his practice on cosmetic plastic surgery.
For more information on Dr. Eric Okamoto and Fremont Plastic Surgery, the practice can be reached at 39380 Civic Center Drive, Suite B, Fremont, CA 94538 – (866) 514-7155. http://www.drokamoto.com.
###