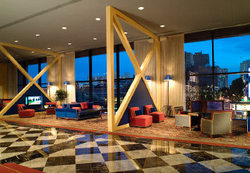 Fort Worth, TX (PRWEB) September 2, 2009
Football fans can attend a Texas Christian University Horned Frogs game and enjoy top rate accommodations when they book the TCU Football Package with The Worthington, a Renaissance Hotel. The package gives guests fun at the stadium and accommodations at the best Fort Worth Texas hotel to enjoy.
Those who book the TCU Football Package will enjoy the best of the hotel deals Fort Worth for football fans. The package includes two adult tickets to the TCU football game. The seats are in the general admission, or Frog Zone, of the stadium. Guests will be able to be right in the middle of the action. The Frog Zone is full of excited fans and helps add to the experience.
Those who choose the special at The Worthington, A Renaissance Hotel will also receive a breakfast buffet for two guests, complementary in room coffee and complementary self parking at the hotel.
The best of the football vacation packages Texas puts fans right in the middle of the action. They can travel in style and see a college football game when they choose this special. They will receive a full experience, from a wonderful stay at the hotel to college football tickets.
Rates range from $159-$189. The offer is valid through December 1, 2009. Promotional code D34 must appear in the Corporate/Promotional Code box for the special to take effect. After booking, guests will then be able to take advantage of the best of the Fort Worth hotel specials for sports fans.
For more information, visit http://www.marriott.com/hotels/travel/dfwdt-the-worthington-a-renaissance-hotel/ or call 1-800-HOTELS-1.
About The Worthington, A Renaissance Hotel:
The Worthington, A Renaissance Hotel is the only 4-Diamond hotel located in Fort Worth. The hotel offers luxurious accommodations, lots of meeting space and is in close proximity to area attractions such as historic Sundance Square. The hotel is a hot spot for sports fans, as it is located near Cowboy Stadium, Nascar at Texas Motor Speedway and Texas Christian University.
###