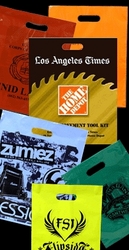 We only get one environment for us, our children and our grandchildren to enjoy
Riverside, CA (PRWEB) September 1, 2009
Major California plastic bag distributor Aplasticbag talks about how grocery bags, trade show bags, biodegradable green plastic bags are again making news in two states on the opposite ends of the country. Aplasticbag notes that in Seattle, Washington, the chemical industry and critics are blasting recently enacted city legislation that discourages the wholesale use of plastic bags by imposing a plastic bag fee. Some view this move as city government's greedy, ineffectual attempts at capitalizing on environmental issues. They doubt this measure will curb plastic bag usage in any significant way, and seek non-negative incentives to businesses that practice the environment-friendly use and processing of normal and promotional bags.
Meanwhile in Delaware, Governor Jack A. Markell has signed legislation into law recently that promotes the processing of recyclable plastic bags at all retail store locations across the entire state. Sussex Countian news reports House Bill 15, with House sponsorship, will require that retail stores with at least 7,000 square feet of retail space or three or more must establish an at-store recycling program for plastic bags. "We only get one environment for us, our children and our grandchildren to enjoy," said House Majority Whip Rep. Valerie J. Longhurst, D-Bear. Those stores must also provide reusable bags that customers can purchase. The law will take effect on December 1, 2009 and by August 1, 2010, stores must include a message encouraging recycling on all plastic bags. Restaurants (that typically use custom printed poly bags) are excluded from the law. The administration hopes to reduce pollution, preserve natural resources, and set an example for future generations by encouraging Delawareans to recycle and incorporate green plastic bags into their everyday routines.
It's been long enough for recycling to make its way as deeply as it will into American life, just as other norms have done in the past. Drunk driving came to anathema-status in our culture during the eighties and nineties through aggressive civilian and government programs like Mothers Against Drunk Driving (MADD). Before the nineties, laws and television advertising didn't malign drunk driving with a fraction of intensity they do today, but enough was enough: too many lives were being claimed by this practice and as a community, people decided to make a change. Recycling custom plastic bags as an issue isn't as immediate or life-threatening by any measure as drunk driving; failing to recycle a plastic bag or bottle hardly ever injured anyone; still, an environmental point of view that takes the impacts made on our ecosystem for generations to come into account uses this terminology to define what is happening to the planet. In a word, people across the country are as environmentally-conscious and involved as ever before.
"The current Obama administration's policy continues pursuing better environment-saving methods and technologies with the most far-reaching and sweeping initiatives to date in comparison to previous administrations", environmental analysts say. And the adage holds especially true when it comes to preserving our environment for ourselves and future generations: everyone doing a little makes a big difference. Ways to make a lasting difference - reuse plastic bags, cut down on waste where possible, place recyclables in the blue bin, and make that stop before heading home after work to turn in recyclables if blue bins are not accessible at the house. How these recent changes in state legislation will affect individual and corporate plastic bag usage/recycling remains to be seen.
Aplasticbag continues their line of designer-quality trade show bags that can be printed with a color images. To learn more about what the plastics industry is doing to help protect the environment, visit http://www.aplasticbag.com.
###