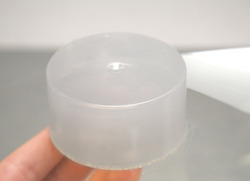 MED-4286 is a notable material for applications that require a soft, yet moldable material that can keep its form
Carpinteria, Calif. (Vocus) September 1, 2009
NuSil Technology LLC (http://www.nusil.com ), a leading formulator and manufacturer of silicone compounds for the healthcare and pharmaceutical industries, announces the release of MED-4286, an ultra-soft elastomer with a feel similar to a firm gel but with greater physical properties, providing a product ideal for potting, encapsulating or molding devices.
MED-4286 is a pliable silicone elastomer designed for applications requiring low "000" durometer, as well as low modulus and high elongation. Featuring a low, pourable viscosity and 12-hour work time, MED-4286 is easily moldable, providing versatility for various applications. This material is designated as Unrestricted and can be considered for use in long-term implants (implanted 29 days or longer).
"MED-4286 is a notable material for applications that require a soft, yet moldable material that can keep its form," said Brian Nash, vice president of Marketing and Sales.
With a one-to-one mix ratio, MED-4286 is conveniently packaged in a side-by-side kit for easy use. For implant applications of less than 29 days or applications that come in contact with body fluid and/or skin, NuSil offers a Restricted version of MED-4286, which can be considered for use in such applications.
For more information on NuSil's silicones for healthcare applications, call 805-684-8780 or visit http://www.nusil.com/products/healthcare.
###