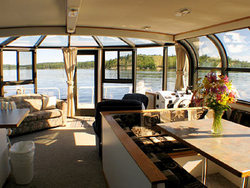 There is only one way to see a water based National Park (Voyageurs) and that is from a houseboat. You are your own captain; choose to move every day or only once. There are not many places where you can see this type of wilderness from this type of amenity
Crane Lake, MN (PRWEB) September 3, 2009
Voyagaire Houseboats invites anyone looking for a fall getaway to come see the beautiful fall colors, catch a prize fish, enjoy the relaxing atmosphere of a houseboat vacation while avoiding the seasonal bugs. Located in Voyageurs National Park, the only water based national park, giving house boaters the chance to experience miles and miles of untouched wilderness.
Featured recently on Wheel of Fortune game show as a featured prize, Voyagaire houseboat rentals boasts a large fleet of 35 boats ranging from 36'-62'. Voyagaire is celebrating their 50th year in business and continues to offer unprecedented service to include daily deliveries of items of convenience to all floating homes, even delivery of live lobster.
Houseboat vacations range from three to seven days. Voyagaire has the staff and boats to meet every vacationer's needs and expectations. "There is only one way to see a water based National Park (Voyageurs) and that is from a houseboat. You are your own captain; choose to move every day or only once. There are not many places where you can see this type of wilderness from this type of amenity," says Jim Janssen. He and his wife Gretchen, owners of Voyagaire Lodge and Houseboats, have been providing trouble free houseboat rental vacations for many years.
Voyagaire offers houseboat models for everyone from basic models to luxurious rentals that include numerous amenities such as a hot tub. Novice skippers are welcome and, after training by friendly staff, find Voyagaire houseboats easy to operate. Voyagaire Lodge and Houseboats provides 24/7 boat-to-lodge radio communications. Guest's questions are answered and food requests are personally delivered.
Voyageurs National Park offers over 200,000 acres of water to explore. Guests start their family vacation adventure in Crane Lake, and traverse through Sand Point, Namakan and Kabetogama Lakes. Visit the historic Kettle falls, and enjoy miles of unending scenery. Whether guests are interested in honeymoon retreats, bachelor parties, or family vacations, they'll create lasting memories with a Voyagaire's houseboat vacation.
"At Voyagaire we realize that there is not much time to get out before the season turns cold. Take advantage of some great fall specials and enjoy the state we live in," Janssen says.
To learn more information, view customer testimonials, or see a live web cam from Voyagaire Lodge, visit http://www.voyagaire.com
###