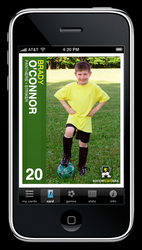 One-upping your friends and neighbors is one of life's guilty pleasures and the soccer field is a great place to take the stage
Ramsey, NJ (PRWEB) September 1, 2009
Site K Studios, Inc. brings soccer players, parents and coaches everywhere another reason to get excited about the 2009-2010 soccer season. Soccer cards are no longer an end-of-season snapshot in time. SoccerCard SKS, a customizable stats application for iPhone and iPod touch, enables users to create an unlimited number of virtual soccer cards featuring current player photos and season records, stats and totals in real time. This breakthrough application is available for purchase now on the iTunes App Store for $2.99.
"One-upping your friends and neighbors is one of life's guilty pleasures and the soccer field is a great place to take the stage," said Kevin Sitek, iPhone app developer, creative consultant and principal of Site K Studios, Inc. "Though soccer cards give us a reason to brag, they're only available at the end of the season, if at all, delaying the fun. With SoccerCard SKS you can e-mail and share your soccer stats -- or those of your favorite player or team -- instantly, at any point in the season."
SoccerCard SKS offers an easy-to-use interface that instantly displays a player's photo and basic information on the front. Users can snap their own photos or select from their personal photo libraries. When the iPhone or iPod touch is rotated 90 degrees, the player's card flips to reveal the back of the card, which contains a full range of individual game stats along with other detailed information.
In addition to cards for individual players and entire teams, SoccerCard SKS can be used to create cards for specific tournaments. Other benefits include: goalkeeper stats (including goals against average); customizable game details (date, start time, location, opponent's name, home or away game and game score); tracking of players' wins, losses and tie records; and individual game notes. SoccerCard SKS users can also send a player's season stats and schedule to others as an easy-to-read color HTML e-mail.
A limited number of promotional codes, redeemable for a free SoccerCard SKS app, are available on a first-come, first-served basis -- e-mail promocode(at)SoccerCardSKS.com.
About Site K Studios, Inc.
Founded in 2006, Site K Studios, Inc., http://www.sitekstudios.com, builds creative and interactive online solutions, and specializes in the development of applications for iPhone and iPod touch. Principal Kevin Sitek's expertise also includes more than 10 years of design experience in online advertising for some of the industry's top interactive agencies along with creative solutions for numerous Fortune 500 clients. He is also a contributing writer for iPhone Life magazine. For more information about SoccerCard SKS, please visit http://www.soccercardsks.com.
###