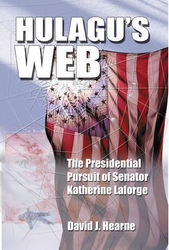 Hulagu's Web - The Presidential Pursuit of Senator Katherine Laforge
Houston, TX (Vocus) September 1, 2009
Author David Hearne wants to give a free copy of his book "Hulagu's Web – The Presidential Pursuit of Senator Katherine Laforge" to 100 members of our arm forces currently serving in Iraq Korea, Afghanistan or are disabled. The book is a political thriller about a woman... whose quest for the presidency finds her embedded with the marines for the first 22 days of the Iraq war. If you have a son, daughter, father, mother, sister brother, husband, wife or friend in Iraq, Afghanistan or Korea or know a disabled vet simply provide Subterfuge Publishing the address of that military person who you want to receive a free copy of Hulagu's Web. Once Subterfuge Publishing receives the one hundred names and addresses, the books will be shipped with a thank you note for the sacrifice they endure to keep us all free.
In the books acknowledgement it reads: "All the military men and women who put their life on the line so the rest of us can take life for granted. I salute you, and hope my portrayal of your life in Iraq does you justice." The author, David Hearne was an Army Officer in the Vietnam War and has a good grasp of the hardships and sacrifices men and women of today's military forces endured.
To request your free book, you must be in the service or requesting for a book to be shipped to a member of our arm forces. Books will be shipped only to legitimate military members. Names and shipping addresses should be mailed to:
Subterfuge Publishing, PO Box 8008, Lumberton, TX
Books will be shipped once all 100 names have been received. Short biographical material about the recipient of the book suitable for publishing would be very much appreciated. We would like to publicize those men and women who receive Hulagu's Web in a future news piece about their sacrifice for our country. To receive a free book, it is not necessary to provide this biographical information, but if you feel the same way we do - that they do not get enough positive news, then please include some biographical information about the recipient of the free book.
"Hulagu's Web - The Presidential Pursuit of Senator Katherine Laforge" is a must read. It is a brilliant and slashing indictment of today's political scene that struggles with some of the most prevalent political problems of our time. Hulagu's Web is an ingenious and fast moving, spiced with assassination, conspiracy, action, mystery, deception, suspense, love, hate, politics, and even faith. It provides a fresh and original way to think about democracy, political process, and corporate greed. The uniqueness of the story is in part because it mixes realistic and interesting characters into confrontations involving many of the key political issues of our time. Its blend of real events painted with expressive prowess of the ideals and ideas espoused, insuring that the reader will notice and grasp the political views, and arguments sparkling with extraordinary clarity between the action lines of the book. Emerging from the pages of Hulagu's Web is a thesis that members of congress and groups of businessmen clandestinely work together, backed by substantial funds, to corrupt the present democratic system with a desire to establish their own plutocracy.
###