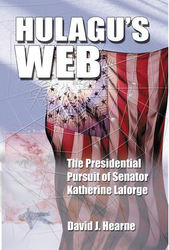 We hope KELD 1400 AM Morning show with Patrick's listeners will find the book a brilliant and slashing indictment of today's political scene.
New York, NY (Vocus) September 1, 2009
Author David Hearne will be interviewed live by Patrick Thomas on the KELD 1400 AM Morning show about Hearne's politically controversial book, "Hulagu's Web - the Presidential Pursuit of Senator Katherine Laforge."
David Hearne had just completed a mini tour of West Texas appearing on KMID TV with Natalie Swain, KAUZ-TV in Wichita Falls, KFDA TV NewsChannel 10 Early Show, and KLST's "Live at Five" with Joel Fox now he is doing the talk radio show tour. His first stop is in El Dorado, Ark on Thursday, September, 3rd on KELD 1400 AM Morning show with Patrick Thomas.
Book reviewer, Kristine Morris of ForewordMagazine.com described David Hearne's book "Hulagu's Web-The Presidential Pursuit of Senator Katherine Laforge", as "a ripping good political thriller" She went on to say, "Under the guise of entertainment, Hearne investigates issues of importance, including the motivation behind Islamic terrorism, the corruption of American politics including the buying of congress by oil interests, the attitude toward women in positions of power, and the deliberate bungling of efforts to move the country to green energy."
"The story is fast-paced, the dialogue is compelling, and the stakes are high as the characters are impacted by the horrific events that mark the progress of Senator Laforge's campaign. The author is at his best in action scenes, where his ability to engage readers with graphic description shines." The author, a former military officer, knows what it's like to wear a gas mask and chemical protection suit in the heat of the desert, to feel wind-driven sand in one's eyes and under one's collar, and what death smells like. He is also at ease describing the green technology that could be America's salvation from dependence on foreign oil, and he does not flinch from naming the interests that intend to see that its promise is never realized." The story weaves fiction and facts together with many relevant issues from today's news. The controversy, theories and speculations surrounding the book should provide for an interesting show.
The discussions will take the reader into the mysterious world of Hulagu's Web. Listeners will discover why Mr. Hearne wrote this book and how it is fast becoming a tool for raising public awareness awareness of government corruption, awareness of the need for sustainable alternative energy. This will be a radio show that fed up taxpayers, soldiers, disillusioned politicians and their friends and family won't want to miss! The dialogue will not only entertain but provide new insights into subjects like alternative energy, taxes, Iraq, cloning, and more. It will also explain why understanding these subjects helps build a better country. "We hope KELD 1400 AM Morning show with Patrick's listeners will find the book a brilliant and slashing indictment of today's political scene." It is a book that struggles with some of the most prevalent political problems of our time. Hulagu's Web is an ingenious and fast moving story, spiced with assassination, conspiracy, action, mystery, deception, suspense, love, hate, politics, and even faith. It provides a fresh and original way to think about democracy, political process, and corporate greed. The uniqueness of the story is in part because it mixes realistic and interesting characters into confrontations involving many of the key political issues of our time.
###