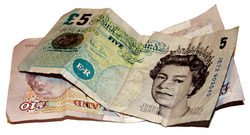 Whether you need a new insurance policy or you are at renewal stage, the easiest way to ensure you're not paying more than you have to, is by using a comparison site like us.
Cardiff (PRWEB) September 2, 2009
Industry figures reveal one-in-four homeowner's have cancelled their policies in an attempt to shave costs off monthly outgoings during the recession.
The new problem of 'insurance dieting' is both worrying and unnecessary.

Homeowners are the biggest losers, by pouring £508million1 down the drain by not shopping around
Motorists are wasting over £411million2 every year by not shopping around and simply accepting their insurers renewal price
14% of travellers are obtaining insurance via price comparison sites
Darren Black, head of home insurance at Confused.com said: "Our figures prove loyalty doesn't pay. A massive amount of money is being wasted by people renewing year after year. It's a myth that a loyal customer will get a good or better deal. This just isn't true. It's never been easier to search the market for insurance; the market is open to everybody. As far as people cancelling, such action is risky and unnecessary, especially given the savings which can be made with Confused.com."
"Whether you need a new insurance policy or you are at renewal stage, the easiest way to ensure you're not paying more than you have to, is by using a comparison site like us."
The savings speak for themselves. Motorists buying on Confused.com could enjoy a saving of over £2053. Despite this, 60% of car owners are failing to review their car insurance.
And the savings are not restricted to Motor. Customers buying home insurance on the site could save £1804. Figures from the comparison site show 11.7m customers have not reviewed their insurance within the last two years which equates to £508 million being wasted in one year alone. With this in mind, Confused.com urges all people considering renewing or even cancelling their insurance, to look at what is on offer before such a drastic measure is taken.
The holidaymaker seems to be slightly savvier than other groups of insurance customers. Fourteen per cent of travel insurance customers use the sensible option of shopping around while 24% obtain cover direct from the insurance provider. The most alarming figure in this category is the 25% of customers who buy insurance from tour operators or travel agents, as they can charge up to 500%5 more for travel insurance than the likes of Confused.com.
As the aggregator market grows in popularity the comparison website recognises the importance of reassuring users their details are safe and confidential when using the site.
Will Thomas, head of car insurance quotes at Confused.com concluded: "It's great to see a huge amount of people already using us to make savings and get the best deal available, year on year."
"However, there is still a significant amount of people failing to regularly review their insurance. Sixty per cent of the motoring population are guilty of this and haven't shopped around for two years or more. One in four have not reviewed for five years or over. For this group especially, there has never been a better time to see if they are on the best deal available as they are the most likely to make the greatest savings. The process is really easy and takes minutes. Once a visitor has used Confused.com, all details are saved making subsequent visits even easier than the first. At Confused.com we treat personal information with the utmost security. Our customers are reassured that information provided, is used for the sole purpose of returning them competitive insurance quotes."
For further information please contact:
Press office: Confused.com, 02920 434 398
Notes to editors
1 By finding 24% of 11.7m homeowners failing to review home insurance x £180.74
2 By finding 12% of the 16.7m car owners failing to switch insurance providers x £205.20
3 Is the saving made by 12% Confused.com customers who provided a best alternate price between Jan 1st - 31st March 2009
4 Is the saving made by 24% Confused.com customers who provided a best alternate price between Jan 1st - 31st March 2009
5 Research below compiled by Confused.com
About Confused.com:
Confused.com is one of the UK's biggest and most popular price comparison services. Launched in 2002, it generates over one million quotes per month. It has expanded its range of comparison products over the last couple of years to include home insurance, travel insurance, pet insurance, van insurance, motorbike insurance, breakdown cover and energy, as well as financial services products including credit cards, loans, mortgages and life insurance.
Confused.com has a panel of 60 home insurance providers and can save customers over £180.74* on their annual home insurance policy.
Confused.com is not a supplier, insurance company or broker. It provides a free, objective and unbiased comparison service. By using cutting-edge technology, it has developed a series of intelligent web-based solutions that evaluate a number of risk factors to help customers with their decision-making, subsequently finding them great deals on a wide-range of insurance products, financial services, utilities and more.
Confused.com's service is based on the most up-to-date information provided by UK suppliers and industry regulators.
Confused.com is owned by the Admiral Group plc. Admiral listed on the London Stock Exchange in September 2004. Confused.com is regulated by the FSA.
24% of customers who received a home insurance quote in the first quarter of 2009 and provided a best alternative price saved over £180.74
###