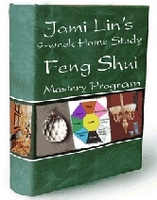 Since 2007, Jami's house readings have been extremely valuable to my family. Her Feng Shui site and phone consultations helped us make important decisions for our house renovation project.
Miami, FL (Vocus) September 3, 2009
Feng Shui Master for over 20 years, and Interior Design consultant for over 30 years, Jami Lin wants to make it easy on clients to use her expertise. Using Skype, the free Internet phone service, Jami consults with clients all over the world.
"I've been tracking Feng Shui yearly and monthly energies for more than 5 years with Jami's programs. Even though my home is in Australia, through very comprehensive, educational, an fun phone consultations, Jami helped me maximize the good energies and reduce the bad energies (every space has both) in my office and home -- even to the extent of helping me design a brand new kitchen." shares Debbie Bennet in Sydney.
Clients take advantage of this unique service by emailing Jami photos and layouts of spaces to be designed. Knowing the direction a house is facing, as well as the compass number, Jami can provide yearly and daily/monthly maps to apply the best practices to interior design. She can also provide tips based on personal best direction.
Different schools of thought give many faces to the ancient art of Feng Shui. Many misconceptions about technique also exist. Jami has spent years doing Feng Shui consultations and studying the mathematical principles behind different ideologies all based upon the rhythms of nature. She applies these mathematical and scientific concepts to personal needs to maximize individual benefits.
Jami designed an entire home in Mexico from-the-ground up. Lupita Herrera says, "At first, I thought long-distance consultation would be impossible, but Jami made it easy and fun. We got a brilliant architectural floor plan and a new house full of fresh ideas, some of them very elegant, some very practical, and accordance with our lifestyle
The Feng Shui Interior Design websites offers numerous articles and testimonials to get clients started on the path to spiritual happiness in their home and office. It also teaches how to bring Feng Shui inside the body for personal bliss.
Nora Weiss in Fort Lauderdale, Florida also provides a testimonial for Jami's work: "Since 2007, Jami's house readings have been extremely valuable to my family. Her Feng Shui site and phone consultations helped us make important decisions for our house renovation project." Additionally adds Nora, "Jami helped my daughter determine the best townhouse to rent from several choices, based upon her personalized Feng Shui requirements and family needs, along with providing suggestions for future remedies."
Other Feng Shui consultants may come directly to the home, but often have less expertise than Jami. While Jami also is available for onsite consultations, because of her experience, she is able to provide detailed solutions and saving clients money by using email and phone consultations, while still adding the customized, personal touch. That is why she has been able to help so many people all over the United States, Mexico, Australia, and United Kingdom.
About Jami Lin:
Jami Lin (JamiLin.com) is a 30-year veteran of interior design. Her expertise evolved into Feng Shui (http://www.Feng-Shui-Interior-Design.com ), international recognition as a master with six best-selling books, an online home-study certification program, and PBS-TV pilot. Color is her trademark and her new, award-winning ColorAlchemy book (ColorAlchemy.com) is heralded as, "advanced thinking for infinite possibilities."
Jami's media section provides the press with valuable, tailor-made content using color therapy, Feng Shui, design, and youth-enhancing wellness in: Lifestyle/General Interest, Family/Children, Business Success, Home/Garden, Health: Body, Mind, Energy Medicine, Youth-Enhancing Secrets, and Human Spirit/Awareness.
Jami Lin is available for interviews.
Photographs available on request.
Media contact:
Joy Starr
941-276-8689
ColorAlchemy.com
Written by: Andrea Coventry
585-482-7702
montessoriwriter.today.com/where-to-read-me
###