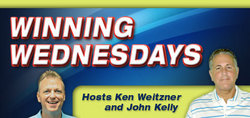 the most exciting city in the world.
Chesapeake, VA (PRWEB) September 2, 2009
Join John Kelly and Ken Weitzner every Wednesday as they discuss the latest sports gambling topics from a worldwide perspective. The show, titled "Winning Wednesdays," will be dedicated to the hearts and minds of sports enthusiasts everywhere.
"I wanted to offer something unique to the gambling community," said Weitzner, owner and operator of EOG a website serving as a watchdog for the online gaming industry. "This will be a weekly show unlike any other. It will be a sports betting program for beginners and experts alike. Our guest list will feature some of the brightest minds in the business. We promise to tackle tough issues, offer intelligent insight... no dummying-down, and we plan to spread goodwill throughout the gambling fraternity."
Weitzner, one of the most influential voices in the sports gaming world, will provide commentary from his home in Chesapeake, Virginia. Kelly, based in Las Vegas, will serve as the show host.
The one-hour program will air live via the Internet at noon Eastern (9:00 Pacific). The website address is Talkzone. The podcasts will be archived at Weitzner's website, EOG.
Founding sponsors (listed alphabetically) of "Winning Wednesdays" include BetPhoenix, Bodog, BookMaker and Pinnacle Sports. For more information on this ground-breaking program, contact Virtual Trading at 757-406-1731.
Show Schedule:
September 9 -- Joe Lupo (Borgata Hotel Casino & Spa).
September 16 -- Jeff Haney (Las Vegas Sun)
September 23 -- Mickey Richardson (CRIS)
September 30 -- Phil Steele (Northcoast Sports)
Future guests include Jimmy Vaccaro (Lucky's), Ken White (Las Vegas Sports Consultants), Bob Stoll (Dr. Bob Sports), Fezzik (LVA Sports) and Edward (Right Angle Sports)
Meed Ken Weitzner:
Nicknamed "The Shrink," Ken Weitzner traded a successful career in psychiatry in exchange for a more exciting and more rewarding life as an entrepreneur and professional gambler.
The 53-year-old Weitzner, a 1978 graduate of Emory University, is widely recognized as the country's leading authority on the subject of online gambling. Dr. Weitzner has been quoted extensively by The New York Times, The Wall Street Journal, and ESPN The Magazine. He recently appeared on CNN serving as an expert on Internet gambling and the law.
Dr. Weitzner rose to prominence in 1997 when he launched the popular online gambling portal, The Prescription. Weitzner's creative work with his sports gambling website revolutionized the industry and set the standard by which all gambling forums are judged. Weitzner enjoyed tremendous success with his initial Internet venture before eventually selling his enterprise in 2001 for $2.4 million.
The well-connected businessman then re-entered the marketplace in June of 2005 by launching Eye on Gambling, a website dedicated to the survival of sports bettors everywhere. To no one's surprise, Weitzner's newest project is an industry leader.
Dr. Weitzner's success extends beyond the traditional business world. He also enjoys his reputation as a successful sports gambler. In 2008, Weitzner displayed his gambling prowess by defeating a field of 16 world class handicappers in "The Money Talks Invitational," a high-end football handicapping contest held at the Riviera Hotel and Casino in Las Vegas. By defeating a field that included respected gamblers Nick Bogdanovich, Steve Fezzik and Bill Krackomberger, Weitzner earned the winner-take-all purse of $80,000. In the championship round of the big-money event, Weitzner's opponent, Jack Ross, finished with a pointspread record of 5-2 only to be outdone by Weitzner, who impressed onlookers by winning with six of his seven tournament selections.
Ken Weitzner lives in Chesapeake, Virginia. When he is not involved with sports betting, he is known to be quite the family man. He has been married 18 years to his wife, Jacqueline. Weitzner likes to spend weekends with his two sons, Derek and Jerry Lee, and his five grandchildren, whom he talks about all the time.
Meed John Kelly:
On his 21st birthday, John Kelly paid a visit to Las Vegas. It was love at first sight. Nearly a quarter-century later, Kelly continues to be fascinated by, what he calls, "the most exciting city in the world."
John Kelly is not only a keen observer of Nevada's gambling scene but also an active participant. Kelly's love for sports gambling has served him well as one of the most respected voices in the city's sports media.
For more than a decade, Kelly was the radio host of "The Stardust Line," the longest-running, single-sponsored sports talk show in the country. His interview subjects included prominent casino owners Bill Boyd and Steve Wynn, professional gamblers Billy Walters and Andy Beyer, and world class athletes Sugar Ray Leonard and Laffit Pincay, Jr.
Kelly also served as host of "Leroy's Sports Hour," a one-hour radio program dedicated to sports betting. For three years, Kelly teamed with legendary bookmaker Jimmy Vaccaro to produce an award-winning program heard on both Fox Sports Radio 920 (Las Vegas) and ESPN Radio 630 (Reno).
Kelly now serves as an editorial contributor to Vegas Insider, a website devoted to the survival of sports bettors everywhere. His association with Vegas Insider began in the fall of 2009.
A native Chicagoan, Kelly is a 1985 graduate of Northwestern University where he attended the Medill School of Journalism. At Northwestern, Kelly wrote for The Daily Northwestern and served as sports director of WNUR, the campus radio station. He was elected president of Chi Phi fraternity in 1983.
###