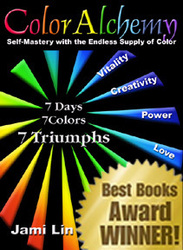 ColorAlchemy has so many practical applications as color, as the energetic component of light is the primordial substance of life. Quantum scientists are discovering what the ancients instinctually knew, it is the god-particle that exists in everything
Miami, FL (Vocus) September 5, 2009
Best-selling author Jami Lin recently attended a convention in Miami to share some of the techniques found in her award-winning book ColorAlchemy. The filmed video presentation is now available to be viewed on YouTube and ColorAlchemy website.
"ColorAlchemy has so many practical applications as color, as the energetic component of light is the primordial substance of life. Quantum scientists are discovering what the ancients instinctually knew, it is the god-particle that exists in everything," says Jami Lin. "Practical application make profound changes in a person's life, for example, I take three, deep, color breaths with indigo visualization when I can't sleep, and I am out by the third breath."
In the film, Jami explains, ColorAlchemy uses Newtonian principles to turn the human being into a receptor of color to achieve white light or spiritual calm. Sir Isaac Newton first discovered the seven colors of the rainbow when he held up a prism in front of a ray of sunlight. When he placed a second crystal in front of the seven colors, they came back together in a white light. That white light is known as the symbol for the Creator or God or the equivalent all across spiritual traditions.
Jami Lin's four-week E-course, including book and video presentations, provide a journey along the color spectrum to learn how to absorb the daily colors, and to be able to call upon them in a time of need. As there are seven days and seven colors, to make ColorAlchemy easy to integrate and automatically effective, each day focuses on a particular color. Monday is red, Tuesday is orange, Wednesday is yellow, Thursday is green, Friday is blue, Saturday is indigo, and Sunday is violet. Each color also represents one of the seven triumphs. Red is vitality, orange is creativity, yellow is power, green is love, blue is focus, indigo is intuition, and violet is bliss.
It is intuitive to diagnose personal weaknesses and then use color to strengthen them. Call upon red when feeling tired before that late afternoon meeting. Use yellow when approaching an intimidating situation. Indigo helps calm those feelings of road rage. Blue calms and strengthens communication.
Use the daily colors to assist with business success. Put all deadlines into a particularly colored folder. Outline days of the week and special events on the calendar in the daily color as a reminder. One of Jami's clients even uses color to help her mother with Alzheimer's remember to eat, so ColorAlchmey is good for mental health and energy medicine. The practical applications for personal growth are endless and it is so simple to apply.
View Jami's video presentations on YouTube or through ColorAlchemy.com where there are also complimentary E-books and the innovative International ColorAlchemy Web Conference.
About us
Jami Lin's (JamiLin.com) new, award-winning ColorAlchemy book (ColorAlchemy.com) is heralded as "advanced thinking for infinite possibilities." She is a 30-year veteran of interior design using home as a tool for emotional, mental, and spiritual health. Her expertise evolved into Feng Shui (Feng-Shui-Interior-Design.com), international recognition as a master with six best-selling books, an online home-study certification program, and PBS-TV pilot. Color is her trademark.
Jami's media section provides the press with valuable, tailor-made content using color therapy, Feng Shui, design, and youth-enhancing wellness in: Lifestyle/General Interest, Family/Children, Business Success, Home/Garden, Health: Body, Mind, Energy Medicine, Youth-Enhancing Secrets, and Human Spirit/Awareness.
Jami Lin is available for interviews.
Photographs available on request.
Media contact:
Joy Starr
941-276-8689
ColorAlchemy.com
Written by:
Andrea Coventry
585-482-7702
montessoriwriter.today.com/where-to-read-me
###