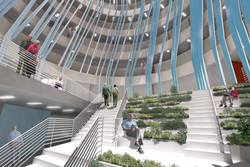 The four apartments were inspired by stories from our residents. With such talented deslgners working on this; we are looking forward to seeing what the finished places will look like
Los Angeles, CA (PRWEB) September 8, 2009
The Skid Row Housing Trust is hosting a 20th Anniversary gala celebration to introduce the New Carver Apartments, on 17th and Hope Streets in Los Angeles, on Thursday, September 24, 2009 at 6:00pm. The New Carver Apartments development is the Trust's 22nd residential building for Los Angeles' homeless community.
The New Carver Apartments is a collaboration between Skid Row Housing Trust and renowned architect, Michael Maltzan, whose buildings are hailed as environmently-friendly and community-minded. According to Mike Alvidrez, Executive Director, "Skid Row Housing Trust not only rebuilds lives, it transforms and uplifts the community. This new landmark building will provide permanent supportive housing for 95 residents in downtown Los Angeles."
The Gala grand opening will feature four designer apartments decorated by celebrated Los Angeles designers, Katie Fine, Molly Luetkemeyer, Ruthie Sommer and Estee Stanley. "The four apartments were inspired by stories from our residents. With such talented deslgners working on this; we are looking forward to seeing what the finished places will look like," says Molly Rysman, Director of Special Projects. "These new apartments will combine fresh, imaginative design with efficiency and affordability that offers a second chance and a safe, healing environment for the residents who are rebuilding their lives."
Skid Row Housing Trust will roll out the yellow carpet (in keeping with the building's unique color palatte) for the Gala Opening. Celebrities expected to attend are Tobey Maguire and Jennifer Meyer, as well as other young Hollywood stars to be announced, plus Los Angeles' elite, business leaders, architect Michael Maltzan, and members of the interior design community will also be in attendance. This event is sponsored by Bank of America, Enterprise and Angeleno Magazine.
Individual tickets are available for $250 and can be purchased by calling 818-433-7455 or online at http://www.skidrow.org/. Sponsorships are still available. The Gala Opening will take place on Thursday, September 24th at the Carver Apartments, 325 W. 17th Street, Los Angeles, CA 90015. Yellow carpet arrivals, interior design showcase and art silent auction are at 6:00pm, 20th anniversary celebration begins at 7:30pm.
Media Inquires contact Robert Nieto at 1-310-717-6784
About Skid Row Housing Trust:
Skid Row Housing Trust develops, manages and operates homes for the homeless of Los Angeles. The Trust offers permanent supportive housing, plus a complete range of support services necessary to move beyond poverty, illness and addiction. The Trust is responsible for 21 buildings and over 1,300 residents who live in them. Skid Row Housing Trust, founded in 1989, as a multi-faceted nonprofit organization.
###