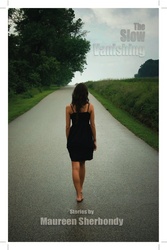 Off-beat stories with unexpected endings. Life's ordinary problems intruded on by the bizarre. The Slow Vanishing has a mesmerizing, magical effect
Raleigh, NC (PRWEB) September 3, 2009
Award-winning poet Maureen Sherbondy ventures into fiction with her debut short-story collection, The Slow Vanishing. The collection combines flash fiction and longer stories, some of which first appeared in Stone Canoe, the North Carolina Literary Review, the Sierra Nevada College Review, and other literary journals. One of the stories in the collection was a runner-up in the prestigious William Faulkner-William Wisdom Creative Writing Contest.
"Off-beat stories with unexpected endings. Life's ordinary problems intruded on by the bizarre. The Slow Vanishing has a mesmerizing, magical effect," novelist Joanna Catherine Scott says of Sherbondy's book.
A graduate of Rutgers University and New Jersey native, Sherbondy now resides in Raleigh, North Carolina. She will be reading at the North Carolina Literary Festival in Chapel Hill on September 13th. Her two poetry collections are After the Fairy Tale (2007) and Praying at Coffee Shops (2008). Sherbondy is a previous winner of the Piccolo Spoleto Fiction Open, a winner of the Hart Crane Poetry Award, and a finalist in Southeast Review's Best Short-Short Story Contest.
The Slow Vanishing is available through Charlotte-based publisher, Main Street Rag Publishing Company: http://www.mainstreetrag.com ISBN: 978-1-59948-186-9, $13.95.
Publisher: Main Street Rag Publishing Company, Charlotte, NC
Main Street Rag Publishing
Contact Author: Maureen Sherbondy
(919) 389-2902 / (919) 847-9108
321 Jellison Court
Raleigh, NC 27615
Maureen Sherbondy Website
###