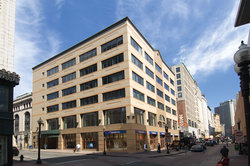 We are pleased that Men's Designer Fashion Outlet chose to locate at 60 Temple Place
Boston, MA (Vocus) September 2, 2009 -
BPG Properties, Ltd., one of the nation's leading private equity fund managers, announced that Men's Designer Fashion Outlet has signed a long-term lease for 4,571 square feet of retail space on the ground floor of 60 Temple Place, a six-story, 51,940 square foot office building located on Washington Street, the main commercial artery in the Downtown Crossing submarket of Boston, Massachusetts. The landlord was represented in the lease negotiations by Emily Ou of Cushman & Wakefield's Boston office.
"We are pleased that Men's Designer Fashion Outlet chose to locate at 60 Temple Place," commented Michael Rota, asset manager of BPG who oversees the asset management of the property. "This transaction fills the balance of the ground level retail space at the building and brings the property's overall occupancy to 98%."
Men's Designer Fashion Outlet opened its flagship store in Levittown, New York in 2001. The company provides a unique shopping environment where consumers can find recognized labels at outlet prices while offering a level of service that one would expect in a high end apparel store. It currently has locations in Levittown and Westbury, New York and Cambridge, Massachusetts.
60 Temple Place offers a combination of both office and retail space at the intersection of Washington Street and Temple Place in Downtown Crossing. The building is in close proximity to Boston's Financial District, the State House, Boston Public Gardens, numerous shops, restaurants, parking, hotels, entertainment and new residential developments. Access to all major MBTA lines is within a block.
About BPG Properties, Ltd.
BPG Properties, Ltd. is one of the nation's leading private equity real estate fund managers. BPG's portfolio consists of over 20 million square feet of office, retail, student housing, and industrial properties and more than 25,000 apartment units in more than 100 communities located throughout the United States. The firm is headquartered in the Philadelphia area with regional offices in Los Angeles, Chicago, Washington DC, Boston, Atlanta and Raleigh-Durham. In the Greater Boston area, affiliate of BPG own, operate and manage more than 1.2 million square feet of office and retail space. For additional information, please visit the company's website at http://www.bpgltd.com.
For additional information on BPG Properties, Ltd., please contact:
Holly T. Reynolds, Vice President, at (215) 575-2363
For additional information on the property, please contact:
Michael Rota, Asset Manager at (781) 577-2701
###