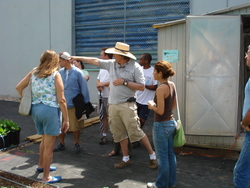 Miami, FL (PRWEB) September 1, 2009
Today, GROW received a unanimous 11-0 vote to operate by the Board of Commissioners of Miami-Dade County.
GROW is a nonprofit, urban garden that operates on an abandoned railway track near the Miami International Airport. It is a grass-root, public education initiative. After nearly two years, it finally gets the blessing of the county to operate.
Seeds for the GROW project were conceived in 1979 by Charles Coiner, Founder of Rock Garden Herbs, in association with Dr. "Patch" Adams of the movie "Patch Adams" starring actor Robin Williams.
GROW's mission is to beautify and create Green Space in a bleak part of the Miami warehouse district where they educate students of all ages about growing edible plants, and incorporate those lessons with a classroom curriculum in all public and private schools, as well as in various colleges and universities such as Miami Dade College.
GROW strives to develop "Green Collar" professions. They want to underwrite job training with supervision from agricultural professionals and eco-educators. They want to provide hands-on training for "at risk" youth and turn that experience into career opportunities.
They also work closely with various organizations to provide therapeutic learning experiences for children and adults with hardships and disabilities including Autism, Muscular Dystrophy, Cancer, Homelessness, etc. It also helps soldiers returning from Afghanistan and Iraq.
In a Partnership with Fairchild Botanical Gardens, the organization donated and installed the first herb garden on view for visitors of Fairchild and for children who attend summer camp there called "The Edible Garden". The Edible Garden is lush with exotic and once forgotten herb varieties such as Lemon Verbena, Bee Balm, Thai Basil, Chocolate Mint and Edible Flowers.
GROW hopes to unify Miami's culturally diverse community, while promoting a positive image of agriculture. Its open-air garden serves as the backdrop for community education workshops, work-study programs, chef and educator seminars and many other important functions.
The organization is in need of volunteers and funding.
All media inquiries should be directed to Miranda Matthews, Director of Legal Affairs at (786) 367-6180.
###