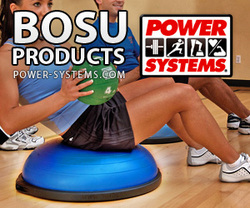 Knoxville, TN (PRWEB) September 3, 2009
Balance training has not been the same since BOSU™ products and education hit the market! The original product, the BOSU Balance Trainer, has completely changed the way people think about balance training.
Balance training is no longer just for rehabilitation or injury prevention but is an important component of health and fitness. Another amazing product, the BOSU Ballast Ball, has solved the stability ball "roll-off" issue and at the same time created entirely new possibilities. The BOSU Ballast Ball allows the user a new dynamic that a traditional stability ball cannot. Also available for the BOSU Balance Trainer and BOSU Ballast Ball is a complete library of educational materials to help you get the most out of your BOSU ball. BOSU has called on the top professionals in the fitness, coaching and rehabilitation arenas to create books, DVD's and other forms of literature to help the customer utilize these products to their full extent. The BOSU Sports Conditioning Series of educational programming allows the athletic coach to teach his or her players sport-specific drills to aid them in their chosen sport. Whereas, the BOSU Pro Series educational programming is designed to show the Fitness Professional formatted exercises to be used in his or her classes. The Personal Trainer or Rehabilitation specialist will find either the Sports Conditioning Series or Pro Series very informative for their specific needs and goals for their clients. Power Systems, Inc. now provides you with the opportunity to experience these great products. From 9/14/09 through 9/30/09, Power Systems, Inc. is offering free shipping on all BOSU products. Just enter the coupon code 09409 during checkout to take advantage of this special offer.
About Power Systems:
Power Systems Inc. is a leading marketer of fitness and sports performance training equipment headquartered in Knoxville, Tennessee. Founded in 1986 by Bruno and Julie Pauletto, Power Systems aims to advance health, fitness, and physical performance for everyone by offering more than 2,500 fitness products.
###